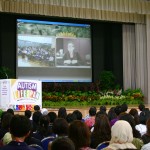 Want me to come and give affordable presentations in your country?

Not only would the cost of flights, accommodation and speaker's fee to be away for a week be too costly but I have primary immune deficiencies which mean I am minimizing all unnecessary international flights. However there are still 3 ways to have me present live in your country:
However, VPAC in Melbourne provides international video conferencing facilities via Access Grid so I can affordably do high quality live video presentations anywhere in the world, and be kind to the environment!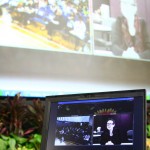 What's required your end is that you use a venue with Access Grid facilities. There will be several universities which have these facilities and VPAC can tell you which venues have this in your country.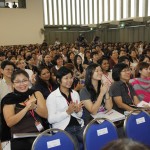 The Access Grid facility has allowed me to present to vast audiences in the US and Singapore. I appear live on the big screen and can take questions directly and see audience members at my end just as they see me on the big screen at their end.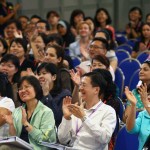 My speaker's fee for live international presentations via this medium would be only $250 (AUD) but hosts have to cover the fee for using Access Grid facilities and tech support at their own end.
If you are interested, contact Lev at VPAC and explore this possibility.
The other possibility is using a technology called X-Meeting. This was recently used by Autism NZ to link up meeting rooms across 8 locations across NZ using what's called a 'bridge' as part of a system called H.323. Each location could see me on the screen and interact directly with me in real time to ask their questions and have me answer them. For more information about X-Meeting discuss this or Access Grid facilities with a Tech support agency in your country. In terms of costs at my end, there's only my lecture fee of $250 (AUD). At your end you'd be paying a Tech support person to facilitate the link ups. There fees will range but may be very reasonable and certainly a fraction of the cost of flying a speaker to your country.
Skype is a means of doing online audio-video meet ups or typed chat in 'real time'. This means we could see and hear each other directly and I can visually demonstrate techniques to you. You can download Skype for free here:
Both consultations with families (or groups) or Skype lectures and Q-A sessions are all done in 'real time' so we would have to match up our time zones and make an appointment to meet on Skype. I'm in Melbourne, Australia. You could check time zone match ups using the 'Meeting Planner' tool here: Essentially, you pick a match up time during reasonable business hours (between 9am- 5pm) here in Melbourne if possible. You can then feel free to then book and pay for your hour then email me at bookings(at)donnawilliams.net . I'll find us an appointment time to meet up on Skype and swap Skype addresses. I've done live Skype lecture/Q-A sessions between Australia and the USA and within Australia between states. Less reliable than Access Grid or X-Meeting technologies, the Skype link ups did work and we had a conference phone system in place in case we lost the connection so audio continued until the video came back online. The advantage of a Skype lecture is other than my fee as a presenter there's generally no cost involved for tech support as its very DIY.
In terms of cost a Skype consultation is only $60 (AUD) including if its for a small group of up to 10 that you've gathered at your end. For lectures with larger groups, a Skype lecture/Q-A session is the same as any other online live video link up. It's $250 AUD.
If you want to book one of these contact me via email: bookings@donnawilliams.net
Warmly,
Donna Williams, BA Hons, Dip Ed.
Author, artist, singer-songwriter, screenwriter.
Autism consultant and public speaker.
http://www.myspace.com/nobodynowherethefilm
http://www.donnawilliams.net
http://www.aspinauts.com