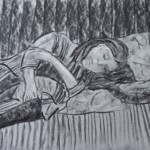 It's been a wild few weeks. The sleep apnea got so crazy I asked the doc to send me to a sleep clinic.
Sure, I'm small, skinny, don't snore at all, but Chris had seen my breathing become irregular, slow down, getting shallower and shallower then progressively stop, looking for all the world like a dead person for 10-90 seconds at a time. I was having numb hands and feet, getting up to pee 1-2 times a night, struggling to walk when getting up and having all kinds of crappy muscle spasms; you name it, it was taking turns to go into spasm. Then my joints were packing up on me caused by mucle spasms so off to the osteopath to keep trying to undo the spasms, get the joints freed up and keep my mobility going for the next week. It was perplexing, harrowing. At first I was sure it must have been due to the chemo, or the Tomoxifen (had just come through cancer treatment) but I knew this stuff had been progressive for at least 2 years before cancer added to the mix. I'd had all manner of intermittent misbehaviour by my muscles either developing spasms or turning to lead, then disappearing leaving me wondering what kind of phantom was this? And vertigo. And numbness in my hands and feet. And dysautonomia thrown into the mix with all its associated heart rate, temperature and bowel chaos. So given all this was on top of already having Primary Immune Deficiencies and spinal stenosis (all formally diagnosed) I was about ready to concede this was some strange kind of 'fall apart syndrome'.
So whilst waiting for the appointment with the sleep clinic for a sleep study, I spoke to a professor who specialised in sleep apnea. He suggested a pulse oximeter which could record overnight levels. I bought one for around $90 and waited for it to arrive.
Whilst waiting, I got my appointment for the sleep study, so off to the clinic to spend the night. Around 8pm I was shown to a motel like room and hooked up to all manner of sensors that would monitor me from head to toe (literally) all night. These would monitor heart, brain waves, respiration at the nose level, movement from the chest wall, blood oxygen levels…
The results came back 14 days later. The report read that I had moderate-severe sleep apnea which included central, obstructive and hypopnea. During the sleep study I had episodes of apnea (complete lack of breathing) of 30 seconds and hypopneas (barely registered breathing) of 87 seconds. The apnea-hypopnea index the night of the sleep study was 20. My blood oxygen levels reached 88 that night (in the first 9 days of CPAP readings however, this was much broader in variation, with the longest Central Apnea at 93 seconds long, the highest number of centrals in an hour at 24 and the highest post CPAP AHI of 17.3 with lowest SpO2 of 77).
I read the links between sleep apnea and cancer and having just beaten off breast cancer (double mastectomy and chemo) I was unnerved, especially as I already dealt with immune deficiencies and this was not looking good.
The pulse oximeter arrived as we waited for an appointment with the sleep specialist so at least we could do our own home testing and reports to see how consistent this apnea and hypopnea was. After 7 days of similar results to the sleep study, we knew the apnea was consistent.
Min SpO2: 84-89
Lowest pulse: 50-58
Highest pulse: 98-118
events per hour: SpO2 events = 5-10, pulse events = 13-17
event duration in secs: SpO2 events = 45-68, pulse events = 26-33
% of time with SpO2 90-95 ranges from 30-68% of the night.
% of time with SpO2 85-90 ranges from 0.2-0.8% of the night.
The dysautonomia (diagnosed during chemo in 2011) was playing up with apnea during the day time too, a pulse that was leaping up to 50 beats per minute (once even jumped 88-180BPM), swinging between both Tachycardia and Bradycardia, sometimes failing to rise with exercise, other times falling with exercise, other times failing to fall when exercise had ceased, and associated blood oxygen levels that looked like my autonomic nervous system was having quite a breakdown.
We saw the sleep specialist. He felt certain that most of my apnea was obstructive even though it presented as central. Even if I didn't snore? Yep. Could it be caused by the dysautonomia? Well, rather than the dysautonomia causing the apnea, that could well be being exacerbated by the disordered sleep caused by the apneas. Could treating the sleep apnea improve my immune function too? He thought it would improve a lot of things, that essentially sleep deprivation can cause a range of health problems.
So it was time to step up to a CPAP machine. I saw the sleep physiologist today… he explained what 'normal' sleep was and showed me mine. I was rather shocked to hear that the sleep study showed that I was spending ZERO percent of my sleep in stage 4 (deep sleep). Apparently this is where we produce Human Growth Hormone (HGH) without which we can't repair our body. It's also essential for cellular repair processes and immune function. Ironically, I used to take L-Glutamine – which works as HGH, so now I know why it dramatically improved my info processing… because I was producing ZERO. So now I'm looking forward to the CPAP machine giving me deep sleep perhaps for the first time in my life.
Also found out today I am missing around 25% of my REM phase… this will apparently cause neurological problems and could exacerbate both cognitive dysfunction and impair autonomic nervous system function and regulation – the dysautonomia. I'm so looking forward to knowing what a normal sleep cycle is like!
The new learning curve didn't stop there. There was one last surprise. I asked the sleep physiologist how it could be I could have obstructive sleep apnea if I didn't snore. He checked my throat muscles, they were fine. He checked my jaw, it was a little receded. He asked me to open my mouth and say 'ah'. "There", he said, "Micrognathia". "What?" I asked.
He explained that Retrognathia is a lesser form of Micrognathia, a condition where the jaw has not developed properly, leading to crowding at the back of the throat. He explained that he'd never have thought I had that degree of Retrognathia, that from looking at me he'd have thought no more than a stage 1 degree of it. But he felt I had around 3-4 of this. He said he had to go to some effort to be able to see my pharynx and that that was not usual. Essentially, it was all rather crowded in there, so not much breathing space. At home, I looked this up. Whilst many people have Retrognathia, Micrognathia is a birth defect associated with a range of genetic syndromes and some with it will later present with Retrognathia. But I felt sure I had no obvious genetic anomaly associated with mine. I just didn't fit the range of genetic syndromes associated with Micrognathia. Then I saw that it is also common in Fetal Alcohol Syndrome.
Given my mother was an alcoholic before I was born, this had already been suggested to me before. But I never felt I looked like 'those kids'. I never imagined there were still physical signs I was once an FAS kid.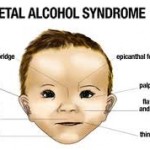 Sure, I do have a thin top lip, very indistinct long philtrim (the groove that runs vertically from the centre of the lip up to the bottom of the nose), a fairly shortened mid-face, and the upturned nose. My nasal bridge was once low and wide, my face more flattened, but I outgrew this. Then I read:
As the child approaches adolescence, the typical facial features become less pronounced. In some adults, facial characteristics have become so normalized that early childhood photographs must be used to confirm diagnosis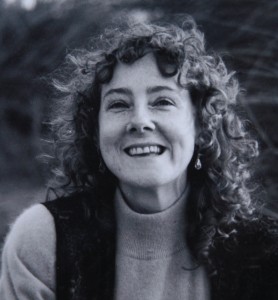 Could I really have once looked like THOSE kids?
or did I?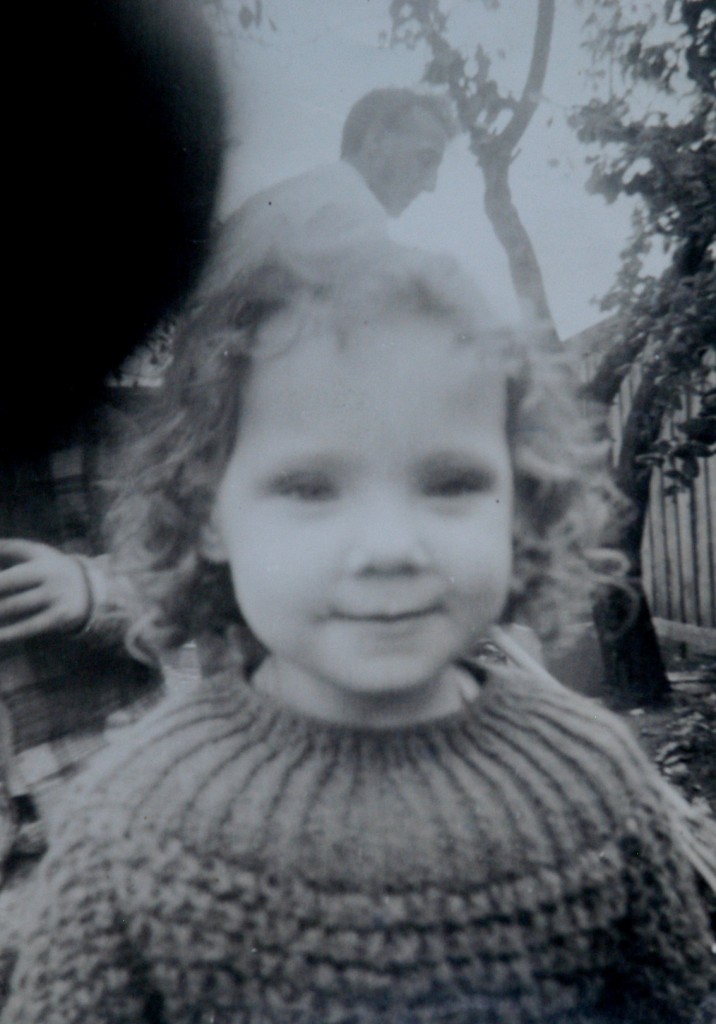 Whilst we know that FAS leads to learning disabilities, mild retardation and many with FAS are diagnosed with autism and/or ADHD, how much of this connection may be that all three groups share untreated sleep apnea with the associated neurological and health consequences causing associated developmental delay? And given one can have non-snoring sleep apnea, and that central sleep apnea during the day can easily mimic presumed 'breath holding', how commonly would apnea be overlooked in the treatment of learning disabilities, developmental delay, autism, ADHD and a range of pediatric neuro-psychiatric issues?
For me, the bad news is that like my autism, I probably had this Micrognathia all my life, its associated apnea and all its hypoxia and sleep deprivation related neurological and immunological complications. These may well have played a role in the fast growth of my breast cancer last year which left me with no breasts and now working my way back from chemo. But the good news is that although I've now stumbled my way to 48 years old, we're on the case now and may well be able to improve my immune function, reduce my risk cancer returning and even turn down the volume on the dysautonomia – yay! I would like to thank the doctors who helped me get to this turning point, about to embark tonight on what may be the first real night's sleep of my entire life. I'm so looking forward to the health effects that will come of this new world.
POST CPAP DAY 1:
The first night of CPAP resulted in improvement of the hypopneas and the obstructive apneas but the centrals were still too high, with 55 of them and an AHI of 9.34. Sure, this was half of the AHI of 23 during the sleep study but it wasn't the AHI under 5 (considered successfully treated) that I was expecting or hoping. Readings said the mask was fitted fine and after adjusting it there was no reported pressure leakage. The percentage of the night under 95% Sp02 was at 25%, the best result in 15 days of pulse oximetry, but whilst 25% was better than the worse results of 65-80% of my night with Sp02 under 95%, it was still only 5% better than the best Sp02 results from 14 nights before CPAP at 30%.
RESULTS FROM 7 NIGHTS PRE SALT AND BEFORE CPAP (19th-27th May)
Min SpO2: 85-89
Lowest pulse: 50-58
Highest pulse: 98-118
total events: SpO2 events = 31-85, pulse events = 104-149
events per hour: SpO2 events = 4-10, pulse events = 13-16
event duration in secs: SpO2 events = 45-67, pulse events = 26-34
% of time with SpO2 90-95 ranges from 37-65% of the night.
% of time with SpO2 85-90 ranges from 0-0.8% of the night.
RESULTS FROM 7 NIGHTS POST SALT AND BEFORE CPAP (1st-7th June)
Min SpO2: 82-89
Lowest pulse: 50-57
Highest pulse: 98-120
total events: SpO2 events = 38-85, pulse events = 98-162
events per hour: SpO2 events = 5-10, pulse events = 14-20
event duration in secs: SpO2 events = 44-61, pulse events = 24-37
% of time with SpO2 90-95 ranges from 30-84% of the night
(excl first night on salt: 54-84%).
% of time with SpO2 85-90 ranges from 0.2-1.4% of the night.
REPORT FIRST NIGHT WITH CPAP (8th June)
Min SpO2: 84
Lowest pulse: 50
Highest pulse: 90
total events: SpO2 events = 35, pulse events =86
events per hour: SpO2 events = 4, pulse events = 9.8
event duration in secs: SpO2 events = 49.9, pulse events = 42.2
% of time with SpO2 90-95 was 25% of the night.
% of time with SpO2 85-90 was 0.5% of the night.
POST CPAP DAY 5
The next 4 nights didn't raise my hopes with night 2 improving with 53 centrals and an AHI of 5.83, but night 3 being not much better than the original sleep report with 117 centrals and an AHI of 17.36. Then night 4 started looking better again, with only 40 centrals and an AHI of 5.6, but I still didn't have faith that CPAP was going to solve the centrals.
I contacted the sleep physician and made an appointment to take the CPAP device in for him to check what's happening.
What was clear was that the CPAP machine has continually reduced the obstructive apneas and the hypopneas. So we know the cause there and that that side of things has been addressed. It's just the centrals we've now got to get managed and he felt we needed more data to understand those. He mentioned that my centrals showed a pattern that was 'almost Cheyne Stokes breathing', which did not sound good at all. I could see it on the readouts, where episodes of central apnea were around 30 seconds apart with deep/regular breathing in between. Besides, he said ALMOST, and that doesn't sound certain yet. So I'm sticking with that uncertainty until told otherwise.
L-GLUTAMINE
I also went back onto 2000mg L-Glutamine three days ago (since CPAP day 2).
I had been on this from age 32-47 as it dramatically improved my info processing and tended to reduce my allergy levels (it works as an antinflammatory). It takes around 3 days to gather momentum and max effect tends to be around 30 days. Not sure how familiar you are with L-Glutamine, but its widely used as a supplement to help with info processing by people in LD, the Dyslexia, Downs, Autism communities. The reason I came off it last year was because it increases HGH so I didn't want that to in any way contribute to my cancer at that time. When you mentioned that the sleep report showed zero stage 4 sleep and explained that meant not producing Human Growth Hormone (HGH) and the role of HGH in repair processes, I figured going back onto the L-Glutamine could only help and I no longer feared it had any risks re developing any secondaries because I'd learned that SpO2 issues with the apneas were probably the greater risk.
During chemo the oncologist was fine with me taking Glutathione 500mg once a day (30% of which is glutamine). The first 3 days of each chemo treatment triggered really challenging dysautonomia issues (incl the respiratory dysregulation issues). So on the fourth treatment (with the ok of the oncologist) I doubled the Glutathione to 1000mg in the first 3 days of chemo and this dramatically reduced the severity of the dysautonomia related issues during those 3 days.
Rather than requesting an urgent swap to the other device to address the central apneas, I have decided to continue with the CPAP machine for the full 14 days of data the docs are requiring, largely because I now appreciate that if I went on to a machine that eliminated the centrals we wouldn't fully get to understand the fuller picture of how they fluctuate over time which would be helpful whether or not the CPAP device ultimately reduced them or not.
POST CPAP DAY 6
My husband Chris too screenshots of the data from the CPAP and we looked at what was being referred to as looking like Cheyne Stokes. It looks rather like it feels, quick successive cycles of central apneas followed by deep, fairly rapid breathing. I know this because with 111 of them in one four hour period I woke up in enough different parts of this process to get some sense of this stuff and I certainly felt exhausted by it but too exhausted to get up so it just kept cycling as I'd drop back into sleep. These cycles generally happened in the first and last hours of sleep.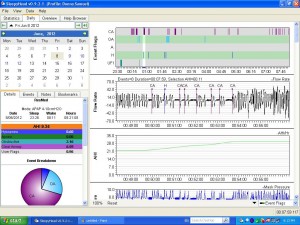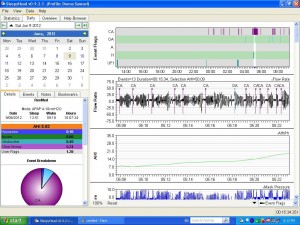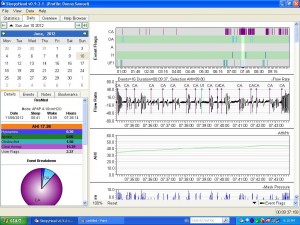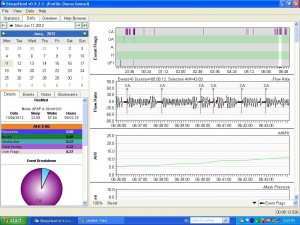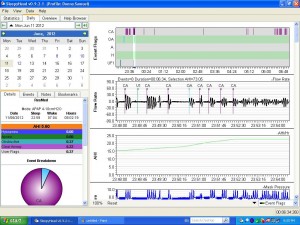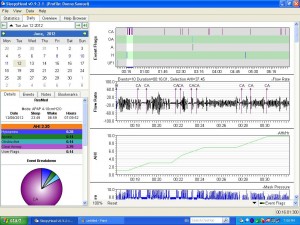 One of the things that relaxes heart muscle to help it have a better chance to regulate and reduce these flow on effects is liquid magnesium – a muscle relaxant. Maybe this would help. Magnesium stores in the body can be depleted with chemo, with surgery, chronic stress, and I've had magnesium deficiency several times in the past. Furthermore, since chemo I've had endless problems with muscle groups spasming… calves, thighs, lumbar, back, diaphragm, even sprained ribs, and the osteopath explained that the leg ones were like a 'heart attack but in your leg'. I had laughed, 'well lets hope I don't get one in my heart'! And whilst I'm sure I haven't had one, what if the heart muscle spasmed like so many of the others? What if this sent things out of sync with the left ventricle and diastolic function and it was all early days and I could reduce the level of any ongoing damage at the very least by getting my muscles to relax? Seems as good a theory as any and at least it makes me think in a hopeful fashion. And my tics increased at the same time as the CSA… and turns out that treating magnesium deficiency is central to the treatment of Tourette's! Turns out that magnesium deficiency also plays a role in dysautonomia. And in the treatment of Suborrheic Dermatitis which I'd had a few months before chemo, all through chemo and throughout the worsening of the CSA. Plus the Tomoxifen I'm on for breast cancer is associated with hot flashes and leg cramps which have both been ameliorated for some people with 400mg-800mg a day of magnesium. So given that I'm diagnosed with Tourette's, Dysautonomia and been treated for constant muscle spasms/constriction and Suborrheic Dermatitis all since this CSA has been happening, could be magnesium deficiency could be the common link. I could be on a winner. I might as well take some liquid magnesium and drink some lemon balm tea (a known muscle relaxant) and maybe this fairy dust might at least do me good in the soul department

POST CPAP DAY 7
First night post 800mg Magnesium speaks for itself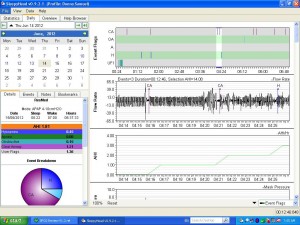 The number of Central Apneas was its lowest ever, with AHI at only 1.81 (previous AHI with CPAP was in the range of 3.36 to 17.36) and the 'Cheyne Stokes' like picture is significantly different this night … yay!!! If this remains consistent Magnesium could be a big help.
POST CPAP DAY 8
The AHI was 2.62. Brilliant! The sleep specialist was right, the centrals would level out on CPAP.
POST CPAP DAY 9
Night three. The AHI was 9.60 … looked like we were back to the drawing board. On the other hand it wasn't 17.36 like on night 3 so we were still doing better than the pre CPAP AHI of 23.
Magnesium did reduce my tics and its helped my muscles, probably also will help protect my heart from the strain of the apneas, but it didn't solve my CSA.
POST CPAP DAY 10-14
THE AHI varied across the next four nights: 3.75, 4.95, 7.64, 8.05, 5.82
Sure, we'd had 6 nights out of 14 with AHI under 5 (our goal) so that was worth feeling hopeful about. And even those over 5 were still only as high as 9 and only one night with CPAP had been 17. So it wasn't time to be utterly convinced, but it did show some hope that these might eventually level out as my brain reorganised.
I saw the sleep technition who took the readings off the CPAP machine and explained how everyone will have some central apneas whilst falling asleep or waking so the goal is to just get them consistently under an AHI of 5 and that with 6 nights out of 14 doing that, it showed hope the next 14 days would continue that improvement. He explained how some people's centrals level off more consistently and quickly with CPAP and other people's it takes 4-12 weeks to do so. I went home with the CPAP machine for another 14 days.
POST CPAP DAYS 15-16
The sleep specialists were right. The AHI for day 15 was a lovely 2.52 and day 16 an even lovelier 1.7
Finally, I was convinced. CPAP was going to solve the centrals too, well, in my case. Of course central sleep apnea is a fruit salad, the causes of which differ for different people. Mine appears to have been due to brain dysregulation set in motion by life long obstructive sleep apnea that was caused by micrognathia due to my mother drinking alcohol during pregnancy.
There was, however, one mystery left to solve. The Sp02 in the pulse oximetry reports didn't tally with the improvements in the sleep apnea.
14 nights Pre CPAP the Sp02 was:
% of time with SpO2 <95 ranges from 30%-84% of the night.
% of time with SpO2 <90 ranges from 0-5.3% of the night
% of time with SpO2 <85 ranges from 0-3.4% of the night
% of time with SpO2 <80 ranges from 0-2.6% of the night
14 nights Post CPAP the Sp02 was:
% of time with SpO2 <95 ranges from 9%-70% of the night
% of time with SpO2 <90 ranges from 0-5.3% of the night
% of time with SpO2 <85 ranges from 0-3.4% of the night
% of time with SpO2 <80 ranges from 0-2.6% of the night
I was so please to have Sp02 at only 9% of the night under 95% and in 14 days post CPAP it was around 10-15% of the night under 95% for 4 of the 14 nights. At that level, it's nothing to worry about. I had 5 of the 14 nights at 25-35% of the night with Sp02 under 95%. But I still had 5 of the 14 nights at 46-70% of the night with Sp02 under 95% which is not healthy, not optimal in keeping any return of my cancer at bay. Furthermore, the nights where Sp02 was better were not always the nights with the fewest apneas and the nights the Sp02 was worst were not always the nights with the most apneas, so something else was at work in the Sp02 department.
The cardiology tests next week would rule out any heart problem at work. A simple lung function test would rule out any problem there. If those are clear then its probably nothing more than the Dysautonomia still playing havoc like an intermittent electrical fault and fact is there's nothing I can do about that I'm not already obediently doing.
UPDATE:
the CSA has finally consistently responded to CPAP – yay! The Sp02 is still under 95% for around 35% of the night but that's an improvement on the 45-65% of the night pre CPAP. Still having apneas intermittently during the day. Nevertheless, there's obviously more than just sleep apnea at work playing with the Sp02. So I'm on the case to solve that because hypoxia and cancer cells just shouldn't hang out together unless one wants to risk facing more tumors.
Onwards and upwards.
Donna Williams, BA Hons, Dip Ed.
Author, artist, singer-songwriter, screenwriter.
Autism consultant and public speaker.
http://www.donnawilliams.net
I acknowledge Aboriginal and Torres Strait Islander people as the Traditional Owners of this country throughout Australia, and their connection to land and community.