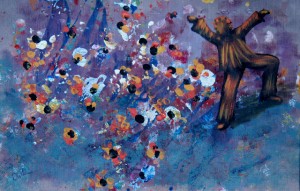 Defibrilator
De Fibrilator, liedeth he,
Twas forketh tongued,
that beastlee dwee.
No dwee had ever lowly slunk,
as De Fibrilator, the slimy skunk.
He liedeth hither, thither too.
He liedeth alone on the loo!
He liedeth to our deceased cat.
Then liedeth this he'd liedeth that!
De Fibrilator, he toldeth fibs,
he bibbled forth verbage not worth ear time.
He wasted his space,
he lied off his face.
Then lost without mouth
he put paid to his crime.
Donna Williams, BA Hons, Dip Ed.
Author, artist, singer-songwriter, screenwriter.
Autism consultant and public speaker.
http://www.donnawilliams.net
I acknowledge Aboriginal and Torres Strait Islander people as the Traditional Owners of this country throughout Australia, and their connection to land and community.