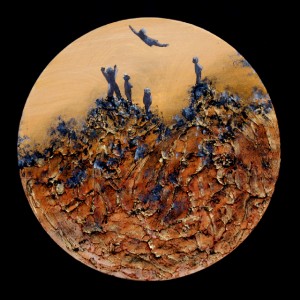 Sure, I'm immune deficient, have dysautonomia and central apnea and did breast cancer last year, kicked its butt with a double mastectomy and chemo and keep it at bay with Tomoxifen BUT the best I can hope for is that WHEN I die… and its inevitable we all will, then I want to leave this world knowing I had a great time in this crazy playground and that as a Taoist I was grateful for the good, the bad and the ugly, all of which caused and complimented and highlighted each other. When my father died at age 59 from cancer of the everything I told him he was going flying, that he'd leave his body and fly. He was afraid of aeroplanes but this was a safe one for him to catch. And when I heard this song today I knew this was my funeral song. Play this one for my funeral for I will have flown from my body, caught a plane to a still and serene moment that will last forever and all I loved will go and be with me in that forever moment, and everything and everyone I loved will carry me within back in the world of the living and so I can never be trully 'just gone'. John Denver, Leaving On a Jetplane, who, ironically, died in a plane crash.
of course I have a few more songs different parts of my team would like.
And this one is lovely too, Manx Lullaby
Donna Williams, BA Hons, Dip Ed.
Author, artist, singer-songwriter, screenwriter.
Autism consultant and public speaker.
http://www.donnawilliams.net
I acknowledge Aboriginal and Torres Strait Islander people as the Traditional Owners of this country throughout Australia, and their connection to land and community.