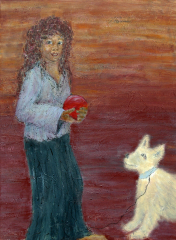 This year I met the amazing Janette Geri.
She is a wild self-owning woman with a 100 year old soul, the energy of a garden pixie and the 'can do' resolve of a born optimist.
I hope you'll take the time to meet her, her incredible voice, her amazing musicianship, her inspirational songwriting and her wonderful humanity. Here's a glimpse… enjoy.
http://www.halftonerecords.com/images/showcase/album/index.html
her music is also on CD Baby
http://cdbaby.com/cd/halftonerecs
and you can drop by her new blog for up to date musings and latest gig info.
And if you find her at one of her many Melbournian musical gigs (including her final gig of the year at Burrinja, in Tecoma Friday 24th Nov 2006 at 8pm), drop by for one of her heartfelt smiles.
UPDATE:
this Saturday and Sunday, the 14th and 15th of April 2007 is a not to be missed Hills Festival, featuring musicians throughout the beautiful natural environment of the Dandenong Ranges.
As part of the Hills Festival, Janette Geri will be performing along with other hills artists at Upwey RSL as well as judging Upwey Idol. Yes, the hills is having its own local version of Australian Idol. Go along, and enjoy the breathtaking atmosphere of the Dandenong Ranges and the festivities.
UPDATE:
Janette Geri just started a blog. Drop by for a visit.
🙂 Donna Williams *)