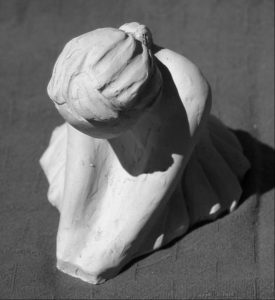 My cousin Sandi was a Sista to me from age 9-13, a fellow survivor of child abuse a fun, wild, Dag who accepted a very whacky cousin in the magic of her own world who shared it with her in ways I shared it with few and a survivor of breast cancer who as children aged 9 and 10 balled out eyes out at the drive-in to the 'cancer movie'Sunshine.
In time our lives went in very different directions but she was always my Sista and I thought of her as often as I'm sure she did. She never knew but much of how I survived and thrived was a testimony to my determination children like us should never carry or pay the price for abuse at the hands of those who were not capable of safely loving themselves or us.
I asked Sandi to do a eulogy for me for my funeral but I felt really strongly I didn't want a funeral and when I learned I didn't have to have one, or a grave or any of the trappings, it fitted me. Because I'm spiritually so certain I am not my body, I wanted nothing that convinced those I loved that I was or had ever only been the body for in this I knew I'd live on in them (a marriage of spiritual atheism with Taoism and Buddhist leanings).
I would even have gone without a memorial, for my memorial was my life and in the hearts of those who walked me to the gates of death with the most enduring love. And so, I determined there would be only a small memorial with my own poetry and music representing me and a celebration of my life with Chris, the quiet, gentle man who spent the last 17 years being the love of my life, my family and best pal and fought for me through my cancer when first diagnosed in 2011, to my metastases in 2016 and what will be my end in 2017. I wanted those who loved me to remember and celebrate me in nature, where I belong and will endure in a spiritual place and to make a personal alter or plant a plant to commemorate me where they can commune with me within their own world, for I am a patchwork of all who loved me just as they are, so this is where I live, in life, and after leaving my body. My cousin Sandi wrote this beautiful testimony to our time together and I know she will carry me in her spirit as part of the patchwork that makes her her and that she will meet me at the beach where the ocean washes in. She'll be waiting there to greet my ashes, but I know I will be there in the tide itself that ebbs and flows with the beating of her own heart.
SANDI'S EULOGY
In memory of the life of one of the most beautiful and talented women I know, My cousin Donna whom I'm going to miss more than words could ever explain, as little kids I always envied Donna, and wanted nothing more than to be just like her, of coarse this couldn't be, as we are who we are. Donna was always Donna and I was always Sandi. Together as kids we spent endless times together, whether we were exploring Coburg, or the big cemetary in between the old Pentridge prison and the second house Donna grew up in Preston from age 8-13 where lots of our childhood memories began.
We'd pull up in Uncle Jackie's driveway and before the car came to a complete stop I'd jump out and run inside run straight for Donna's bedroom which was a triangular attic that made up the entire second story of the house so everyone else lived downstairs. I'd run up the first flight of stairs reach the landing then up the next set of stairs and walk slowly past the big built in robe. Sometimes Donna would let me dress up in her things I could always be myself up in her room or in her company. One day I talked Donna into letting me try on her ballet pointe shoes. She began to show me how to stand on my toes and spin but all I done was nearly broke my toe. It looked so much easier when Donna had showed me how.
I'd make Donna a little frustrated when she tried so hard to teach me something new, like the time she jumped into her pool waiting patiently for me to join her in the water, about 40 minutes later I got passed my little toe dipping it in the freezing water but by then Donna was out back up stairs. One day I did jump in the pool and Donna taught me how to sit on the bottom of the pool only in the shallow end though I wasn't much of a swimmer. We then would sit under there for ages ringing bells and listening to them through the water. I was so excited to be doing this, we'd sometime almost forget we needed to submerge for air.
We spent lots of fun days upstairs. I remember meeting Willy, Donna's imaginary friend. I remember Donna would lay under her bed talking to him, I always got frightened but as long as Donna was there I could do anything even be strong and fearless.
As we got a little older we shared a week on a farm with an old couple who also ran a homestead and it was a milking farm, 4.30am we'd go out and learned to hook up machines that milked hundreds of cows. We could ride the horses to round up the cows feed them while we sat on the back of a tractor. We went to a great country ho-down along with the life time friends we made with the family renting out the homestead.
Wow memories cuz we have so many, I only ever remember us having one bitchy argument because I squirted you with the hose so you threw the broom and shovel my way lol. All was good though we got over it quickly.
Im really going to miss you cuz. You always have been my biggest role model and I envy all your talent, I thank you for bringing my daughter India back to me almost 3 years now and she's fine. We both thank you for helping us become mother and daughter again.
Thank you also for helping me when they handcuffed and shackled me and put me in a room 4 by 4. You helped me you fought for my freedom. You knew my innocence
and you know me better than anyone even my self.
Donna I wish you a wonderful journey to where ever your soul takes you. Hope you find lots of amazing things on your way, and when you take a peek at those who love you I hope you see lots of smiling faces and moving bodies as we all dance for you in our moments of grief.
I'm not going to say goodbye. I'll wait for the waves from the ocean to cover my feet or watch the birds flutter up till they fly high in the sky. That's when, my dear, I will say goodbye xxx
Love you Sandi xxx