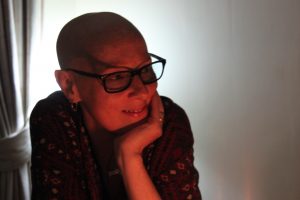 When I leave the body I will continue to live on in all who have known me. This is why they say 'survived by…'
. I will live on in their hearts and minds, whether they are conscious of me or not, in their body-mapped experience of me, in the imprinting that became an integrated part of them, in the tapestry that is their personhood that continues to have a body in this physical world, and also through my music, art, poetry, books, talks, teaching. But I will also have no grave, just ashes. My husband, who is my family and best friend, will have these to commune with for however long he wants and needs this in his life… a physical presence, albeit transformed, a focal point for greetings and meetings, for things he'd like to say and share and with whom he'd like to sit and simply be. And in time he will carefully transfer some of these ashes into small shakeable jars and take these out to valued and significant places in nature where he wishes me to have a physical presence and to also do this with a few people I consider family in places they can easily visit. Visitors, in time, may like to visit these places, to commune with me there, to reflect, but of course can also do this any time in their own world for once touched by me they can choose to find me walking with them whenever they need that. In time, my ashes will be scattered at the following places:
Living Bush Nature Walk, Dandenong Ranges National Park, Ferntree Gully
You can get there by train from Melbourne CBD to Upper Ferntree Gully Station then 15 min walk to the Dandenong Ranges National Park. Parking is best at the station then walk. Pass the car parks, and then just past the playground and before the 1000 Steps and just before the commemorative statues about Kokoda, turn right, go over the bridge, past the two shelters, around the loop and there's a track (Rambler's Track) that comes off the loop. You'll see a small bridge just meters up that track, a few meters beyond this bridge are four large rocks on the left and on the right there's a cluster of rocks by the stream and waterfall. My ashes will be there.

Cardinia Reservoir, Duffys Rd, Narre Warren East VIC 3804. Drive in and park in the first carpark on your right. At the entrance to the walk along the wall of the reservoir there is a large rock on the right. My ashes will be there.

Grants Picnic Ground, 70 Monbulk Road
Sherbrooke VIC 3789. Walk down the lyrebird track and find the first major tall gum tree with a hollow on that track on the right. My ashes will be there.

National Rhodedendron Gardens The Georgian Rd, Olinda VIC 3788. You can get here by car or by bus from Upper Ferntree Gully Station. Enter the gardens and make your way down to the bridge across the pond facing the Kazume Bowl. There's a tree nearest the shelter there that creates shade over the water lillies. You'll see some rocks leading into the water of the pond. My ashes will be there.

Birdsland Mt Morton Road, Belgrave South, VIC 3160. Park and enter the path that has the shelters and BBQs. Follow this to a small bridge with a willow tree and rocks by it. My ashes will be there at the foot of the willow tree.

St Kilda Beach St Kilda Foreshore, St Kilda, Victoria, 3182. Find the pier, walk to the end as far as permitted. This is where my ashes will be cast or visit me at the ocean/sea wherever you are for the tide will travel the world.

Warrandyte Vic 3113. Park near The Bakery (193 Yarra St, Warrandyte VIC 3113). At the rear of the bakery are steps to the Yarra River. My ashes will be there.

LW Williams Reserve, Spring St, Preston 3072. Walk down Myrtle Grove, turn left down the laneway to the park. Find the first large tree. My ashes will be there at the foot of this tree.
See you there.
Polly Samuel (aka 'Donna Williams')
Author, artist, consultant and presenter.
http://www.donnawilliams.net
I acknowledge Aboriginal and Torres Strait Islander people as the Traditional Owners of this country throughout Australia, and their connection to land and community.