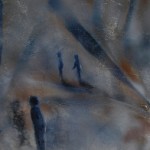 Dear Immune Deficiency,
I know you decided to share my life, invited by forces beyond my control – a mother's alcoholism and family history of cancers and gut disorders, a father's lineage of first cousin marriages and the challenged genetics that go with that, measles and mumps at age 3, a history of abuse, neglect, homelessness, and then EBV in my 20s almost took us to the end of the line.   But like it or lump it, there you were since I was 6 months old, like a hated siamese twin, right there in my shadow.  With every infection, injection, antibiotic and test you were there and now, I'm 46 and we're traveling together again. You blessed me so much pain in my ears and throat and lungs, drowning me in my own muck, making me feel like one big walking germ.  You gave me the gut from hell, helped starve and fry my brain and played havoc with my brain chemistry so I couldn't make sense of the world and couldn't control my emotions or behaviour.  In that confusion, fatigue and pain, you taught me about self containment and we lived in a world called autism.  We sat alone in the schoolyard together.  We stood out in the hall in grade 3 when the bronchitis was too distracting for the teacher to teach 'real children.  We went through the tonsillectomy to be able to swallow again.  We made it all the way to 26 and then you took me to a cross roads.  But I turned a corner with you and the antibiotics we had become immune to.  There were alternatives and with no other mainstream alternatives we embraced them.
We traveled together to allergy specialists and immunologists and went onto supplement and spent the rest of our lives in a dietary wheelchair.  But after 12 years there I was without you, at the top of a mountain, I seemed to have 'recovered'.  And I was so happy and never thought I'd see you again.  But you were waiting for me, like an old friend, with your cold comfort.  And you pulled me down that hill (we'll I got too cocky, I thought I was superwoman and could 'really' live life physically as others do, beyond what most others can do).  And I fell at your feet, ill, fatigued, struggling and familiar.  Sure, I cried, who wants to go home when the holiday had been so good, so long, I thought it was my new home.  But 46 is 76 in Primary Immune Deficiency terms.
So here we are, dance partner.  I'm doing all I can to help us dance without treading on each others toes, without too many bruises.  So I want to take this chance, this moment of peace, to thank you.  Because you taught me so much, gave me so much.  I didn't really understand that you weren't my enemy, you were my teacher.  I didn't understand how wonderfully well we really did, we fought wars with sticks against bugs with rifles and for some time we didn't even have sticks, we just pretended we did and faith in our invisible sticks sufficed now and then.  That's what you taught me… to laugh when and whilst you can… to hope and dream and if you have no sticks then use invisible ones because faith is worth at least a penny in the arcade of immune deficiency.
And you taught me to spend my life getting free, free of the mental chaos of imbalanced brain chemistry, of brain damage related agnosias and their sensory perceptual isolation.  You taught to to consider the world beyond my own encapsulation, to befriend that world, build bridges to it.  Hell, we even found comrades from related journeys.  You taught me humility and to love life like the last squeeze of a lemon for a sore throat.  You taught me to distract, divert, find the buzz because it would sustain me when illness over took me.
You taught me to find the real people so the false ones wouldn't exhaust me.  You taught me to stop being a doormat and raise myself up as an equal even though we knew I was a broken biscuit.  You taught me to stop giving all my energy to empty buckets and pouty princesses and narcissists, to clutching, clinging me, me, me types and find those seeking not to be carried, but empowered, those who knew how to give without reason, not just take with a million excuses.  You taught me to take the stage and sing my heart out whilst I could and know I finally did that.  You taught me to stop doing and remember how well you had once taught me to just be.  You reminded me that peace is a positive take on fatigue and that grace will fit my current shoes far more than Tigger's bounce and bolsh.  You taught me to let people know how wonderful they are and what they are worth because when you're 46 and your immune system is 76 that's important.
Immune deficiency, you didn't mean to hurt me and you made me a better person.  Thank you.
Donna Williams, Dip Ed, BA Hons.
Author, artist, singer-songwriter, screenwriter.
Autism consultant and public speaker.
http://www.myspace.com/nobodynowherethefilm
http://www.donnawilliams.net
http://www.aspinauts.com