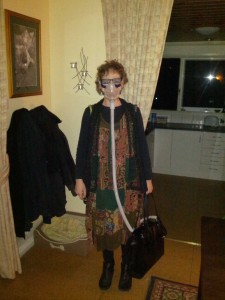 I was diagnosed with Autism in 1965 (aged 2). I grew up with autonomic issues, none of them formally diagnosed until they were pushed over the line following two general anaesthetics and chemo in 2011-2012.
Post chemo and post surgery in 2012 my already failing respiratory drive (I had reported issues to the GP in 2010) deteriorated further and I had a sleep study and was diagnosed by a sleep/respiratory specialist with with Mixed Apnea. In trying to get to grips with the cause of my autonomic dysfunction I was seen by a clinical pharmacologist specialising in dysautonomia who diagnosed me with Ehlers Danlos Syndrome (EDSIII/IV) and associated autonomic dysfunction (Postural Orthostatic Tachycardia Syndrome). There were plenty of environmental factors prenatally and postnatally in my first 3 years that could have caused or at least contributed to my autonomic dysfunction and failed respiratory drive. However, I'm progressively discovering that not only is autonomic dysfunction usual in EDS but also in autism. I'm particularly interested in respiratory drive failure as this is what I'm dealing with and have been on ventilation since 2012.  However by 2016 the list of diagnosed neurological issues had grown: failed respiratory drive, autonomic and sensory neuropathy, idiopathic hypersomnia, diplopia and foot drop all between 2012-2016.  So what on earth was going on?
This is a summary of what I have so far learned:
HYPOTONIA (WHICH INCLUDES MUSCLES INVOLVED IN RESPIRATION) IS COMMON IN THOSE WITH EDS III AND CLASSICAL EDS
Other features include hypotonia with delayed motor development, fatigue and muscle cramps, and easy bruising. Source: http://www.ncbi.nlm.nih.gov/pubmed/20301422
http://pmj.bmj.com/content/64/748/126.full.pdf
30% OF THOSE WITH AUTISM HAVE HYPOTONIA
According to the Autism Society, about 30 percent of all children with autism have hypotonia, or low muscle tone, sometimes referred to as "floppiness." Children with hypotonia may have great flexibility, such as being able to do splits, but limited strength. Physical therapy helps train the affected muscles and some children develop muscle tone as they age. Source: http://www.healthcentral.com/autism/c/1443/163057/7-characteristics-disorder/#sthash.rqLUrW6G.dpuf
50% OF THOSE WITH HYPOTONIA MAY REQUIRE ARTIFICIAL VENTILATION
Most patients with hypotonia may develop insufficiency of breathing and 50% of patients between ages 3 and 55 years need some form of artificial method to help them breathe at night. Source: http://www.news-medical.net/health/Symptoms-of-hypotonia.aspx
EDS INVOLVES NERVOUS SYSTEM FEATURES
Neurological manifestations of Ehlers-Danlos syndrome(s): A review
Brain magnetic resonance imaging (MRI) is usually unremarkable for major structural anomalies in EDS.

This overview on neurological manifestations of EDS demonstrates a largely unrecognized set of central and peripheral nervous system features in patients with heritable connective tissue disorders. In addition, while the pathognomonic features of EDS are not historical heritages of neurology, now, we know that a great proportion of the increased mortality and morbidity of EDS patients is linked to the reverberations that a primary connective tissue derangement has on nervous system development and functions. Hence, all practitioners occasionally or constantly involved in the management of EDS should be better aware of the neurological manifestations of this condition on both clinical and research perspectives. Source: http://www.ncbi.nlm.nih.gov/pmc/articles/PMC4300794/
VARIOUS TYPES OF EHLERS DANLOS SYNDROME INVOLVE NEUROMUSCULAR INVOLVEMENT
Neuromuscular involvement in various types of Ehlers-Danlos syndrome.
"Muscle weakness, myalgia, and easy fatigability were reported by the majority of patients. Mild-to-moderate muscle weakness (85%) and reduction of vibration sense (60%) were common. Nerve conduction studies demonstrated axonal polyneuropathy in five patients (13%). Needle electromyography myopathic features in nine patients (26%) and a mixed neurogenic-myopathic pattern in most (60%). Muscle ultrasound showed increased echo-intensity (48%) and atrophy (50%). Mild myopathic features were seen on muscle biopsy of five patients (28%). Overall, patients with the hypermobility type EDS caused by TNXB haploinsufficiency were least affected."
Source: http://www.ncbi.nlm.nih.gov/pubmed/19557868
OVER STRETCHING IN EHLERS DANLOS SYNDROME TYPE III CAN LEAD TO PROGRESSIVE BRAINSTEM COMPRESSION AND ASSOCIATED AUTONOMIC DYSFUNCTION THAT MAY ONLY APPEAR ON MRI WHEN IMAGED IN THE UPRIGHT POSITION
Leading research suggests that the pathogenic relationship between dysautonomia and congenital laxity of the connective tissue is primarily attributable to the pathological deformation of the brainstem and upper spinal cord from occipitoatlantoaxial hypermobility and cranial settling [8]. In other words, craniocervical hypermobility and instability, and the resulting deformative stress of repetitive stretching and ventral brainstem compression, appear to underlie the observed autonomic dysfunction in hypermobile patients [9]. As demonstrated in pathological reports of fatal cases of traumatic brain injury and numerous animal studies, repetitive stretching of nerves can lead to clumping and loss of neurofilaments and microtubules within the axon and promotes neural apoptosis [14][15]. Strain also alters the electro-chemistry of the nerve by decreasing the amplitude of action potentials [16] and increasing calcium influx into the cell [17]. Unsurprisingly, the histopathological changes in neural axons that are undergone in these situations would not show up on any routine diagnostic test. In extreme cases, however, cranial settling and a reduction of the clivo-axial angle may be demonstrable on MRIs, but typically only when imaged in the upright position [8]. This would explain why many of these patients' diagnostic imaging reports state negative results.
A GENE MUTATION IN NEUROLOGINS MAY BE ASSOCIATED WITH BOTH AUTISM AND RESPIRATORY FAILURE
Synaptogenesis, Neuroligins, and Autism
…we found that mice with a loss-of-function mutation in the murine NLGN4 ortholog Nlgn4, which encodes Neuroligin-4, exhibit highly selective deficits in reciprocal social interactions and communication that are reminiscent of Autism Spectrum Conditions (ASCs) in humans. Our findings indicate that a protein network that regulates the maturation and function of synapses in the brain is at the core of a major ASC susceptibility pathway, and establish Neuroligin-4-deficient mice as genetic models for the exploration of the complex neurobiological disorders in ASCs (Jamain et al., 2008). 
We found that deletion mutant mice lacking Neuroligin expression entirely die shortly after birth due to 
respiratory failure, but exhibit normal synaptogenesis in the developing brain. The respiratory failure in Neuroligin deficient mice is the consequence of dramatically reduced synaptic transmission and network activity in brainstem centers that control respiration, which in turn is mainly caused by aberrant maturation and function of GABAergic synapses. (Varoqueaux et al., 2006). Source: http://www.em.mpg.de/index.php?id=106&no_cache=1
GENE MUTATIONS ASSOCIATED WITH CAUSING AUTISM INCLUDED THOSE INVOLVED IN NERVE SIGNALLING
It is now evident that there are many genetic paths to autism, and that some mutations leading to autism are not inherited but arise spontaneously in reproductive cells or during development. These mutations help to explain how autism can appear in families that previously had no history of the condition.
When investigators have homed in on specific genes, they have identified numerous candidates, many of them associated with the formation or function of the brain. These include genes that play roles in neural development and structuring, nerve signaling, and speech and language processing. The emerging scientific picture of autism is a condition that begins during fetal development, as a result of both genetic and environmental influences. Source: http://www.pbs.org/wgbh/nova/body/autism-vaccine-myth.html
FUNCTIONAL AUTONOMIC NERVOUS SYSTEM PROFILE IN CHILDREN WITH ASD
"Autism spectrum disorder(ASD) is a complex neurodevelopmental disorder defined by qualitative impairments in social communication, and by the presence of repetitive behaviors and restrictive interests. An extensive body of literature suggests that ASD symptoms are associated with pervasive atypicalities in the central nervous system [1], including structures and networks involved in the regulation of the autonomic nervous system (ANS)….These include reports of elevated basal heart rate [10-13], decreased baseline vagal tone [11-14], and blunted heart rate response to psychosocial challenges [15-17]. It has been suggested that ASD may be associated with autonomic dysregulation. Our data are consistent with this hypothesis." Source: http://www.molecularautism.com/content/5/1/39
DEATHS FROM NERVOUS SYSTEM FAILURE (DYSAUTONOMIA) WHERE 2.5-3 TIMES HIGHER IN SOME PEOPLE WITH AUTISM THAN IN THE GENERAL POPULATION
In the no or mild mental retardation group, deaths by seizures, nervous system dysfunction, drowning and suffocation were all more than three times higher than would be expected in the general population. (Journal of autism and developmental disorders, vol 31, N.O 6, Dec 2001
Shavelle, Strauss and Pickett) Source: http://www.copd.lifeexpectancy.org/articles/a2.pdf
One study found that deaths from gastrointestinal and respiratory
disorders were 40.8 and 24.5 times higher, respectively, in moderately to severely affected patients versus typical peers (Shavelle et al., 2001).
Source: http://nationalautismassociation.org/pdf/MedicalComorbiditiesinASD2013.pdf
Then came the article that finally made sense of the entire collection of my last few years of progressive neurological issues…
CO-EXISTANCE of EHLERS-DANLOS SYNDROME AND MULTIPLE SCLEROSIS
"EDS is a rare, inherited disease characterized by disturbed collagen synthesis and enzyme dysfunction. Central nervous system involvements are remarkable, mainly in vascular type EDS.1 However, only one study could be identified that examined the potential association with MS, and it was emphasized in this study that MS prevalence is 10 to 11-fold greater in EDS patients compared to general population."

Source: http://www.ncbi.nlm.nih.gov/pmc/articles/PMC4449394/