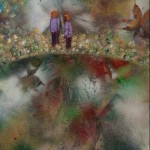 This month's art work is titled "Life on Earth".
It features two of my faceless people standing in a forest at 'the edge of the earth'.  Whilst they are grounded in a tangible reality, beneath them is a realm of intangible emotions.  One is tentatively asking the other a question but the other person is unable to answer.  The work is acrylic on paper, 31cm x 41cm.
I hope you enjoy the painting.  It is one I did last week, the rest of which you can see in my online gallery.
Warmly,