baloombawop
Written and produced by Donna Williams
and performed by Donna and The Aspinauts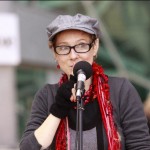 Once upon tough time, there were Grumpy Gallumphies who didn't like strangeness it made them quite grumpy. Then a magical train arrived from a dream and those who could dare, they had dared to get in. It was off to Baloomba-wop where they had purple rain, and a shop that even sold new replacement brains!
They would meet Charlie Warmton whose best friend was a blanket, and the Brookenstein Fox who lives up on a shelf, and Bluster-McFluster with his technical gadgets and the Gimmety-Gimme with everything for herself. They'd meet Booger-Looger who picks his nose to perfection and the Whirly-twirl-girl who lacks any direction. And Gadoodleborger who runs a magical shop which just happens to be where the train is to stop.
But deep in Baloomba-wop, a Grumpy Gallumphy, the notorious Dame Grumpty-Doo-bee-the-Fourth. She is looking to change Baloomba-wop for forever. She's determined to make all these weirdoes quite plain. Will she be stopped before everything's 'normal', I wonder. Or succeed making all be exactly the same?
Baloomba-wop is an interactive, off the wall, musical adventure for kids and kids at heart. It should appeal to fans of Dr Seuss, Lewis Carroll, Roald Dahl. The land of Baloomba-wop is magically brought to life through the complete dag-dom of The Aspinauts and the gestural signing and characterisations of their storyteller-lead singer, Donna Williams.
It runs for an hour and audience members are invited to actively participate throughout.
Our next Baloombawop show is at Carlton Neighbourhood Learning Centre, 20 Princes St, Nth Carlton on Saturday 26th September, 6pm-7pm.  Tickets at the door.  $5 (kids) $7.50 (adults).

We can also bring the show to your party, holiday program, kindergarten, school or festival.


REVIEWS:
As The Aspinauts changed gear quicker than a red Ferrari, front-woman Donna kept apace brilliantly with her phonetically charged lyrics and mesmerizing hands shaping the melody like an artist at the easel. I watched, captivated like the crowd around me. Each song blurred deliciously into the next with Donna's spoken word etching out the poetry of human condition, always so very eloquent and astutely connected to the song the band was about to launch into. I intuitively looked around to see the reaction of people who might not have had the chance to experience such a richly flavoured ensemble before. I can confidently say that The Aspinauts had the crowd in the rather elusive 'palm of the hand'. I thoroughly recommend an audience with Donna and the Aspinauts if you are ever given the chance. Each of your five senses will be buzzing before the end of the first song, and by the end of the show, you'll be definitely Aspi-fied."
– Heidi Everett
What an eye-opening night I had watching Donna and the Aspinauts! Amongst the rhythmic beats and uplifting tunes were embedded lyrics that move the soul. Through poetry and raw emotion I could not take my eyes or ears off this group. Explanations and perspectives that I have never thought to explore, bombarded me and lifted me to a higher place. One minute I wanted to dance in the aisles, next I was dumbfounded by Donna's ability to express. The Aspinauts stage presence is one no other group can contend with. I was taken on a wacky rollercoaster ride that spat me out at the end feeling empowered and inspired. They explore world issues, personal conquests and how difficult it is circumnavigating the social world. A must see for all!
– Adele Kristens
What a funny bunch. The lady is a true entertainer. She told amusing tales of life on the edge of society and made me envious I didn't join her there. Real life? Social norms and expectations? Pah! Look what fun I'm having! She expressed herself even more with flailing arms and facial expressions than her voice, and began each song with a poem quickly captured by interesting and mischievous music. Tongue-in-cheek? Perhaps not. It cannot be genre-defined. I sincerely hope the lady is available for children's parties.
– Jo Robinson
As remarkable a spokeswoman, activist, artist, author, and musician Donna is, her humanity is what really sets her apart; her humor, passion, wit and insight into the world around her; her ability to see beauty in everyday things, her playfulness, her way of being in the world. Donna changed the way I see everyone.
– Stina R.
"Confronting, amazing and informative".
"Great, wonderful, get her back here."
"Very informative, entertaining delivery with a great sense of humor. What an incredible lady."
– Audience members, Wodonga, Australia.
Donna being so lively, human, funny and so true to herself , sparks of the same in me. Her standing up for everyone's right to their individuality, her celebration of differences, and her joy of simply being, allows me to be more of myself and to discover rich inner worlds.
– Malai Sontheimer, UK
We are:
• Highly Interactive
• Diversity Friendly (incl experience with special needs since 1995)
• All performers have Working With Children checks
For children's parties or children's holiday bookings throughout Melbourne contact:
Donna Williams
bookings@donnawilliams.net