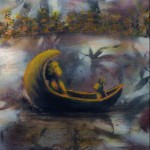 This month's art work is titled "The Velveteen Rabbit".
Its from my Dreamscapes/Faceless collection and features a Rabbit and his Person in a cradle like boat on a lagoon.  Each appears waiting for the other to navigate and because neither do, the water itself navigates them.  They drift in silence, just 'being'.   The Velveteen Rabbit was a book by Margery Williams about a stuffed rabbit who longs to be a real rabbit.   The work is acrylic on paper, 31cm x 41cm.
I hope you enjoy the painting.  It is one I did this week, the rest of which you can see in my online gallery.
Warmly,