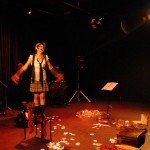 Musically supported by The Aspinauts Donna Williams performs How To Be A Boy and Mirror from the rock musical Footsteps of a Nobody.  Filmed by Lindsay at The Guild Theatre in Oct 09, the show was well received and travels next to the USA in Jan 2010 before returning to Australia for a show in Geelong.
Info on upcoming shows can be found at http://www.aspinauts.com

Donna Williams.
Author, artist, singer-songwriter, screenwriter.
Autism consultant and public speaker.
http://www.myspace.com/nobodynowherethefilm
http://www.donnawilliams.net
http://www.aspinauts.com