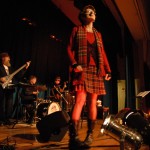 We've always considered Donna and The Aspinauts to be diversity friendly but what does it mean to be a disability friendly band?  Is it about having people with disabilities in the band?  Is it about making it easy for those with disabilities to attend your gigs and shows?  Is it about having a natural sense of equality with and respect for those with disabilities?  Is it about having a strong presence in the wider disability community? 
From the beginning it was a real buzz to find our events attracted not just those in the autism community but also those with other disabilities.  I made a point of choosing venues for our shows which had disabled access but more than this, people knew they could be themselves at our events, that we'd always see the person, not the label (that's also a lyric in the song Mirror that we perform in Footsteps of a Nobody).
People knew I supported and advocated for a not just a more disability friendly society, but a more diversity friendly society.  Not hard to tell with songs like Beautiful Behavioural Mutations , the anthem of Broken Biscuit the plea for equality in Simply Be or the bitey satire of All Be Happy.
From the beginning our events felt rather 'John Lennon' and we were proud of that atmosphere.  Luckily, it hasn't changed.  At the end of the shows, you can actually talk to us, meet us, ask us questions.  There's no us and them, no walls.  I'd like to keep it that way.
Donna Williams, Dip Ed, BA Hons.
Author, artist, singer-songwriter, screenwriter.
Autism consultant and public speaker.
http://www.myspace.com/nobodynowherethefilm
http://www.donnawilliams.net
http://www.aspinauts.com