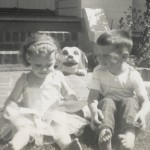 In childhood I was called Dolly Burger by my mother's side, Miss Polly by my father.  I'd rather have been Miss Polly even if I was sick, sick, sick too often than be anyone's doll.  I didn't like doll's, those staring, plastic almost demonic representations of a one-size-fits all normality or perfection.  I never identified with being Doll-y or anyone's doll.  When my mother told me I was hers, her doll, I felt the foundations of my feminist rejection of conformist expectations of 'what a girl should be'.  I liked the ballet dress with its fluttering leafy skirt, its sheeny pink sating and mother of pearl beading catching rainbows in the lights.  But the doll thing…
I developed a male persona when I was 2.  Willie was strong, staunch, egalitarian, determined and a survivor.  The abuser in my room, a friend of the family who took advantage of the 60s freedom in my crazy household, probably saw me as that doll.  And if not for becoming this male persona I don't think I could have handled what happens to pretty dancing dolls in that household.
In the book, Nobody Nowhere, I gave all that an exorcism.  But in the song, How To Be a Boy, I play out that struggle between being girl, being boy.  I'm not sorry that Dolly Burger was a disappointment to the ideal of how to be a girl, a good girl, a real girl.  And I'm not sorry I'm a Broken Biscuit.
Donna Williams, Dip Ed, BA Hons.
Author, artist, singer-songwriter, screenwriter.
Autism consultant and public speaker.
http://www.myspace.com/nobodynowherethefilm
http://www.donnawilliams.net
http://www.aspinauts.com