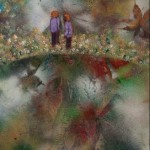 This week, I released my new book, Weirdos Like Me. It's a collection of art, poetry and surrealism.  And, so, dedicated to all of you living with snow up to your eyeballs, here's one of the works from the book, entitled SNOW.
SNOW

Confetti soft, it fell, calling me, the girl from a land of sun.

From the window it took my heart.

My feet ran me down the stairs.

I turned, music box dancer in a world of falling sky

And I knew snow.

The dawn was dark, against the night.

White soot fell from black sky, around bare feet.

For the first time? Of course.

Snow virgin.

The prostitute stood pure in the snow.

It entered, holy into boots, and plastic bags, they crunched,

Binding homeless feet, and shoes with sole,

The snow came through the doors,

And all I could do was smile,

In this magic world.

Snow, do you not know, these dirty hands?

This mouth of sewer words?

These feet have wandered gutters of such privileged lands.

But here, you fall upon me, clean and bright.

Your frosted lips they kiss away the footprints

of a thousand dirty nights.

And laugh, is all a fool can do

as you, ignore my inequality,

pretending like no humans do

that I'm in fact an equal

in this crazy human zoo.
Donna Williams, Dip Ed, BA Hons.
Author, artist, singer-songwriter, screenwriter.
Autism consultant and public speaker.
http://www.myspace.com/nobodynowherethefilm
http://www.donnawilliams.net
http://www.aspinauts.com