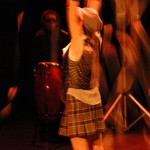 On May 21st, for one night only Donna Williams and The Aspinauts will perform the rock musical Footsteps of a Nobody 7-8pm, followed by an interactive question-answer forum with the audience, Walking In Autistic Shoes, from 8-8.30pm at the Wendouree Centre For Performing Arts.  Proudly sponsored by Ballarat Autism Network as part of World Autism Awareness Month. 
Footsteps of a Nobody is a powerful one woman rock-musical written, directed and performed by Donna Williams, author of the international bestseller, Nobody Nowhere; Autobiography of an Autistic Girl and musically accompanied by The Aspinauts.   Through characterisations, gestural signing, evocative spoken word and song it traces Donna's pivotal experiences from a meaning deaf, meaning blind feral child to homelessness and on to her ultimate fight to claim a place of equality among others.
REVIEWS OF DONNA WILLIAMS' WRITING:
She allows us to understand our own perceptions as never before. NEW YORK TIMES
Powerful and unique. DAILY TELEGRAPH
Deserves every superlative a reviewer can muster. THE GLOBE AND MAIL
Powerful enough to make one reassess what it means to be human. MODE
By turns fascinating and harrowing. PEOPLE MAGAZINE
THE Q-A FORUM
Walking in Autistic Shoes
An interactive Question-Answer forum with Donna Williams
One of the most well known authors diagnosed with autism in the world, Donna Williams was born in Melbourne in 1963.  Thought deaf and assessed as psychotic at the age of two, Donna Williams acquired functional speech in late childhood and was diagnosed with autism in her 20's.
Her first book "Nobody Nowhere" was the first of two international best sellers (set to become a major Hollywood film) and paved the way for Donna to become the author of ten books in the field of autism, an international public speaker and autism consultant, and artist and musician.
Donna's show, Footsteps of a Nobody takes us on that journey and the interactive Q-A forum (Walking In Autistic Shoes) that follows the show allows the audience to directly ask their autism related questions and is guaranteed to provide a fascinating insight into the world of Autism as someone who has actually been there.
WHAT PEOPLE SAY about Donna's presentations:
"The "feel good" feeling you get after the event is amazing. My manager found it the best lecture she had attended in her whole career!"
"Never have I sat through a seminar that held me captivated the entire time. Donna is an expert on the subject and if you think you know a lot about Autism then think again".
"Donna Williams' talks are spell-blindingly powerful. I regard her as the preeminent speaker on autism, from a powerful inside-out perspective".
"As remarkable a spokeswoman, activist, artist, author, and musician Donna is, her humanity is what really sets her apart; her humor, passion, wit and insight into the world around her; her ability to see beauty in everyday things, her playfulness, her way of being in the world. Donna not only changed the way I see people with autism; she changed the way I see everyone".
"Donna shares her knowledge with her audience in a way which makes it one to one, when in a room of hundreds. I would recommend her as a 'never to be missed' speaker".
"Donna's passion for her autism topics dominate the whole room leaving you wanting more".
"In the years I have read many books on Autism but the most extraordinary and significant experience in my personal and professional life was my meeting with Donna Williams".
WHEN: Friday May 21st, 2010
(Immediately following the show, Footsteps of a Nobody 7-8pm)
TIME: 7-8.30pm (show 7-8pm.  Q-A forum 8-8.30pm)
WHERE: Wendouree Centre for Performing Arts, Howitt St, Wendouree, Ballarat, 3350
COST (includes show + Q-A forum):  Full Price $20,  under 18s  $5.00
BOOKINGS: Phone Bookings & payment direct to Booking Office -03 5338 0980
Hours- Tues-Fri -9.00am -1.00pm and 2.00 – 4.30pm
ENQUIRIES: contact Kris kks@netconnect.com.au
Proudly sponsored by: Ballarat Autism Network
more info visit: http://www.donnawillliams.net