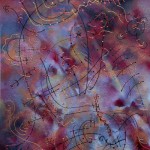 Today a friend came over, we joked about cancer. It was side splitting, wonderful, hilarious and therapeutic.
Chris, was giving me a cuddle, my back to the microwave. Da, our most comedic alter in our DID (Dissociative Identity Disorder) system told Chris he could bundle me into the microwave and give me home made radiation therapy.
Because my cancer looks like a giant letter "i", Da told our cancer that it has ego problems, that if it really felt secure about itself it wouldn't have to label itself as "I".
Da sat there pointing at the cancer in our breast, talking to it, telling it, you ain't so big, WE are much bigger than you. Then she showed off each of legs, our arms…. that we got two good legs, good arms a good head, and 3/4s of a good torso, all you got is a tumor and some measly threads.
Da told our cancer it might think its exciting with its star bursts but its just boring, boring, boring…. then realised, er, shit, yeah, it is boring, its boring into our body… then said to our cancer, er, ok, we take that back, you are not boring.
Polly (one of our child alters) has named our cancer "Ignatious Pug" because of the way it is shaped like a bad chunky graffiti letter 'I'. A friend then warned us not to let it turn into another alter or at least not invite it to stay and integrate!
Polly says if we lose our hair she'll draw a face on the back of our head and greet Chris at the door, backwards. She says if we lose our eyebrows she wants to draw rainbow ones on us.
Donna Williams, BA Hons, Dip Ed.
Author, artist, singer-songwriter, screenwriter.
Autism consultant and public speaker.
http://www.donnawilliams.net
I acknowledge Aboriginal and Torres Strait Islander people as the Traditional Owners of this country throughout Australia, and their connection to land and community.