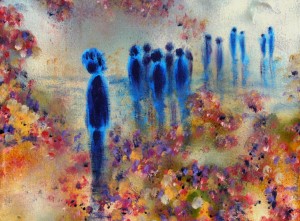 Finally, 16 years of public image damage since the defamatory ABC interview by Kathy Gollan which was initiated by Chris Eipper, the second of the two 'experts' who had backed them, US Autism expert, Dr Kathleen Dillon, sent me a retraction. My Wikipedia page continues to stain my reputation with the defamation they started and the hate that continues to inspire, and it seems that will be my legacy. But perhaps the day after I announced I'm retiring, this retraction was at least 'something':
Hi Donna,

Thank you for giving me the opportunity to reply.
Not having ever met you in 1996, I was giving my opinion to questions posed to me in a radio interview based on what I had read by and about you at that time. I did not presume to have been able to provide you with a diagnosis.
Much has changed in the field of autism from 1996 to 2012. Although it remains the same that I have never met you and can only offer you, as before, my opinion. In my judgment today, your presentation then and now is much more consistent with those who currently identify themselves as on the autism spectrum. From your autobiographical information, you appear to have had a very complicated history of unfortunate events happen to you regardless of how anyone chooses to label you and yet you have managed to have many accomplishments. For that you are to be commended. I wish you only the best in the future.

Sincerely,

Kathleen Dillon
Send in The Clowns (from Wikipedia):
The "clowns" in the title do not refer to circus clowns. Instead, they symbolize fools, as Sondheim explained in a 1990 interview: I wanted to use theatrical imagery in the song, because she's an actress, but it's not supposed to be a 'circus'…. It's a theater reference meaning 'if the show isn't going well, let's send in the clowns'; in other words, 'let's do the jokes.'[1]
Donna Williams, BA Hons, Dip Ed.
Author, artist, singer-songwriter, screenwriter.
Autism consultant and public speaker.
http://www.donnawilliams.net
I acknowledge Aboriginal and Torres Strait Islander people as the Traditional Owners of this country throughout Australia, and their connection to land and community.