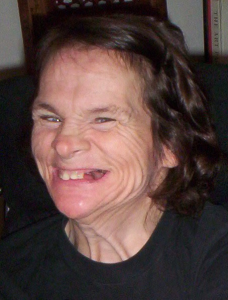 I remember one night when three of us, me, my husband Chris Samuel, and a friend of ours Kieran, went to dinner at Rosemary Crossley's house. Rosemary and her partner, Chris B were always great hosts but for me, I felt most compatible with Anne. Anne was feisty, cheeky, star of the flooring one liner. She was an egalitarian, who wouldn't be having been dumped since age three to spend up to the age of 18 in a Victorian style institution deemed severely retarded where she almost starved to death. It would make any of us rather political, if of course were were credited with the intelligence to be so.

As someone with a tertiary degree in Linguistics, I never had any doubts about Anne McDonald's ability to communicate simple needs or her apt, often wicked one liners. It was her sounds and movements, yes, those of someone with severe cerebral palsy, that spoke in unison with her assisted letter board pointing. And Anne was such a strong personality her hand movements were far from passive. Determined, vigilant, yet humorous, Anne would often near slam the letter board and even if she overshot the mark, it was still usually clear what letter she was heading for. And whilst she had a full range of involuntary movements and noises, it didn't change the fact that after years of having dinners with her each month one came to know Anne's passive expression and her active expression and particularly the grimace complete with eye squeezing she could do on cue to confirm or negate someone else's interpretation of her thoughts, feelings, requests.
Sure, pointing out the letters to spell Kahlua is one thing, but when you saw this cheeky beast make enough racket to get the letter board back to ask for her second and her third, then grimace on cue when asked to confirm her choice, well, it was clear Anne McDonald was in no way Rosemary's 'baby', she was very much her own person, and one I'd bet wouldn't have minded the run of the drinks cupboard if she'd had any mobility or dexterity with which to do so.
One could doubt Anne's deeper writings if one was so inclined to do. Why not? They'd have taken forever to type letter by letter with someone with her level of severe CP. But I met enough of Anne's carers who conveyed their experiences of facilitating her typing on her blog, to know that Rosemary was not the only person Anne typed deep, rich, political statements with. And if I had any such doubts, not that I ever had reason to doubt the full humanity and intelligence of my friend, Anne McDonald, well the events of one night in particular, would have challenged any critic. And linguistic analyses of Anne's writings and those of Rosemary already delineate that each author was at distinctly different reading levels, and had their own, distinct syntax.
When testifying in court, linguistic experts might present computer printouts of word frequency counts and analyses, which show correlations of common word choice or word length between two communications, or words infrequently used by the general population. Experts might also demonstrate comparisons of other items, such as grammatical constructions and errors or speaking characteristics. (from Linguistics in the courtroom – linguistic analysis and testimony
by Penelope O. Pickett)
Most of us know that similar isn't same. But not Andrew Rule who carefully selected the most similar of 32 years of writings by both Anne and Rosemary to send off to be rubber stamped by a linguist as 'fraud':
An example. We selected a passage of Rosemary Crossley's writing to compare with prose she claimed Annie McDonald had written and asked a UK forensic linguist, Dr Kate Storey-Whyte, to analyse both passages. The expert concluded that if the samples came from two people of different ages, background, status, education and life experience (such as Crossley and McDonald) "it would be expected that there would be immediately obvious differences in lexicon, syntax and presentation of self". But there were no such differences, she said. "The complex and at times convoluted syntax, the sophisticated and emotive lexicon, the rhetorical devices, punctuation, sentence length, readability index, error formation and the subtext appeared almost identical in both samples."
Did Kate Storey-Whyte work with people with CP? Was she made fully aware that she was analysing communication that may have already been edited by any of Anne's many facilitators from original telegraphic communications? Did she take account of that? Or did it suit Rule to not share that important detail when seeking his 'expert analysis'?
Did Storey-Whyte consider in her analysis that many people with the severity of CP that Anne had, will commonly type telegraphically (because it is too painstaking to type every comma, every conjunction etc) so its not surprising if a facilitator or editor reviewing such communications for publication, fills in some of the grammar to make works more readable to those without these limitations? Does any resulting similarities make Anne's communication invalid? Only as much as any translation of the spoken or typed communication of someone without fluent English. I'd still have faith the original communication was still in there.
And what of this premise?
The expert concluded that if the samples came from two people of different ages, background, status, education and life experience (such as Crossley and McDonald) "it would be expected that there would be immediately obvious differences in lexicon, syntax and presentation of self".
The writings they were comparing were both of Anglo-Australian, university educated, literary, adult women, who had spent 32 years living together in urban Melbourne. Both had lived 32 years with Chris Borthwick and been socially involved with the same friends and care assistants. Both had interests in film, theatre, art galleries. Both had spent 32 years of their adult lives immersed in atmospheres where disability rights was central. Whilst from different perspectives, both had lives in which equality and communication were central to them. Sure, Anne's life experience before the 32 years she lived with Rosemary was that of 15 years as an abandoned child with severe CP dumped in a Victorian institution where she watched so many like herself die and was, as a matter of course, treated as severely mentally retarded. Rosemary didn't experience that. But Rosemary did experience years working with the same disabled adults Anne saw as her comrades and friends, in that same institution and as an egalitarian with strong interest in disability rights Rosemary and Anne, even then, may well have had more shared experiences than differences. So taking their SIMILARITIES into account, AND the fact that some of Anne's communications may well have been telegraphic then expanded, edited by the multitude of facilitators Anne worked with, let alone the book editor, would Storey-Whyte have come to the same conclusion?
Anne 
started
 to 
learn
 to 
read 
and 
spell
 at
 St
Nicholas 
in 
April
 1977.
 She
 learnt
 quickly,
 bought 
a
 page‐turner 
in 
late 
1977,
 and
 used 
it 
to read
 voraciously.
 Anne
 left 
St
Nicholas 
to
 come 
and 
live
 with 
us 
in 
May
 1979.
 She
 bought 
a
 TRS80
 and
 studied
 Year
 11
 Computer
Science 
at 
University 
High
 in
 1980. 

She
 got 
a 
credit
 VCE
 English 
in 
1981 
and 
started 
a
 Journalism
 course 
at
 Deakin
 in 
1982.

 (She
 changed 
to
 Humanities
 later.)

But had Storey-Whyte received the following texts and their analyses would she have put forward the same view of Anne's and Rosemary's works being 'almost identical'?
Comparison 
of 
Texts 
from 
Annie's
 Coming 
Out

 using 
the
 Flesch 
Reading
 Ease and 
Flesch ­Kincaid
 Grade
 Level


analysis
 available
 in
 MS
 Word



Anne's
 extract

The
 worst 
thing 
for
 me
 about 
going 
into
 an 
institution
 the 
total
 separation 
from
 everything
 I
 had 
known.
 St 
Nicholas
 would 
not 
allow 
parents 
to 
leave 
toys 
or
 clothes
 when
 they
 left 
a 
child. 
My
 rabbit, 
which 
I
 loved 
dearly,
 could
 not 
come, 
and
 neither
 could 
the 
animals
 we 
had 
as 
pets.
 The
 ruthless 
way
 in 
which 
children 
were
 parted 
from
 their
 toys 
was 
typical
 of
 the
 system's 
treatment 
of
 children.
 We
 upset
 all
 their
 rather 
puritanical
 ideas
 about 
how
 children
 should 
behave.

 We
 were
 not
 good 
patients. 
We 
cried 
because 
we
 felt
 abandoned.

 The 
nurses
 didn't
 know
 what
 to 
do;
 they
 didn't
 know 
we
 could 
feel 
anguish.
 The 
institution
 had 
no 
tally 
book 
for
 broken 
hearts.

 Nurses 
were
 discouraged
 from 
cuddling
 children.
 A 
crying 
child
 needed 
to 
be
 punished
 for 
its
 own
 good,
 so 
it 
would
 learn
 to 
accept
 the 
absence 
of
 affection 
and
 be
 happy.
 Punishment 
consisted
 of 
locking 
the 
crying 
child
 in
 a
 small
 dark
 storeroom.
 The
 hospital 
defined 
a
 happy
 child
 as 
a
 quiet 
child.
 Silence 
was 
not 
only
 golden 
but 
sullen;
 the
 nurses
 never 
saw 
the
 looks 
we
 gave 
them 
when
 a
 child 
was
 put 
away.

 The
 doctors 
were 
no 
better.
 They 
went
 home
 at 
night, 
when 
the
 crying 
was 
worst.

 

206 
words


 Characters 
952


 4.5 
characters
 a
 word

16 
sentences


 Average 
sentence 
length
 12.9 
words

Passive 
sentences

 
12%
Flesch 
Reading 
Ease


 76.9 

Flesch Kincaid
 Grade
 level 5.3

 



Rosemary's
 extract

To 
this
 you
 have 
to
 add 
the 
factors
 peculiar
 to
 St 
Nicholas
 at 
that
 time:
 a
 largely
 untrained
 staff, 
most
 of
 whom
 had
 a
 poor
 command
 of
 English;
 vast
 overcrowding 
and 
extreme
 understaffing;
 buildings
 totally
 unsuited 
to 
their
 functions
(two
 of
 the
 wards 
had 
no 
toilets); 
no
 toys,
 almost 
no
 decorations, 
and
 children 
spending 
their 
entire 
lives
 lying 
on
 their
 backs 
because
 there 
was
 no
 proper 
seating. 
Maureen 
Oswin 
has
 movingly 
documented
 the 
intense 
isolation 
suffered
 by
 handicapped
 children 
in
 similarly 
deprived
 institutions 
in 
England.
 In
 her
 book 
Children
 in
 Long
 Stay
 Hospitals
 she
 records
 that
 she
 observed 
the
 behaviour
 of
 staff
 and
 children
 over
 a
 period 
of
 eighteen 
months.
She
 found
 that
 each
 child
 received
 an
average
 of
 five 
minutes
 of 
mothering 
a
 day,
 that
 is, 
of
 playing,
 talking,
 and
 cuddling
 and 
an
 average 
of
 an 
hour's
 bodily
 are.
 The
 amount 
of 
time 
for 
the 
majority 
of 
St.
Nicholas 
children
 who 
had 
no
 physiotherapy
 would 
have
 been
 similar.

 Some
 things
 have
 certainly 
changed 
since 
1975.
There
 are
 fewer
 children 
now,
 and
 the
 staff 
ratio 
is
 better. 
There 
are
 more
 activities 
programs,
 and
 the
 children
 go 
for
excursions
 outside 
the
 hospital
 more
 frequently.
 The
 wards
 are 
highly
 decorated,
there
 are 
many
 television 
sets
 and 
record 
players,
 and
 lots
 of
 toys.

210
 words


 Characters 
1071
 5
 characters
 a 
word

9 
sentences

 Average 
sentence 
length 
23.3 
words

Passive 
sentences

 
0% 
 Flesch 
Reading 
Ease


 53.3


 (the
lower
the
figure
the
harder
the
text) 
 Flesch­ Kincaid 
Grade
 level

 
10.1



The year Anne died, we were sitting at the table, me, my husband Chris Samuel, and Kieran, who had only recently met Anne. The verbal conversation went on around Anne, who was one of the 6 people seated at the table. Kieran was trying to find a word he couldn't remember and defining it, something like "you know, when the government makes rules, set in law". And Anne burst out with what for all the world sounded like a drunk saying 'legislation'. We all heard it but none of us could believe our ears. We had never once heard a single intelligible spoken word out of Anne's mouth. And of all the words, she'd just spouted a four syllable one, completely apt for the context. I said, 'no way, Anne could not actually have said legislation'. And then Anne did her grimace with the eye squeezing, the same way she'd confirm, yes, she wanted more Kahlua (or icecream, or a range of highly desired things she'd confirm request of).
Rosemary chimed in, 'it does happen now and then, the occasional comprehensible spoken word' and explained that often its the long complicated words that somehow are more common. So did Anne strike me as the kind of mind and personality that might be driven to write political essays? Sure, if any one of her many carers would support her through the tedious process of typing letter by letter, days on end to achieve what would take others a few hours.
So what was I to make of the tabloid efforts of journalist, and hopeful novelist, Cheryl Critchley, seizing the opportunity of Anne's death in Oct 2010, to launch her own literary career on the broken back of Anne McDonald's reputation? Or that of Critchley's champion and protege, crime writer, Andrew Rule who recently wrote the article Rosemary's Baby? Were they right that Rosemary Crossley was an imperfect, flawed human being, capable at times of being a zealot, of false modesty? Yes? No? Three bags full? Who the hell cares? Is Critchley or Rule a perfect person?
If the public weren't so distracted by their flaming skills, we might observe that Andrew Rule is a public speaker on the entertainment circuit with Australian Speaker's Bureau.
The Australian Speakers Bureau is here to serve businesses and associations looking for a speaker, trainer, facilitator or entertainer. We work with the top companies in the meetings, conference and convention planning industry. We offer the best speakers from Australia and around the world to bring the client the best possible outcome for their event.
Speaker's with this type of agency earn up to $4000 for some of their bookings, but their fee and bookability depends on them having or at least developing a 'juicy story' and the higher a speaker's profile, the more easily their speaker's agent can promote them. Cheryl Critchley needs the same to move from columnist to author, a juicy story, even if it has to be created. In spite of the deflection onto demonising Rosemary, discrediting Anne and flagwaving their own martyrdom as simply caring about 'the public good', both Rule and Critchley clearly have vested interests they have not bothered drawing attention to. Furthermore, their writing style has not the slightest neutrality, they don't question their presumptions in the slightest, yet are happy to point at others as zealots and extremists. The style and tone of their journalism feels more akin to the common muck of today's trolls and cyberstalkers that drive teenagers to suicide. If that's the measuring stick of who is the most trustworthy in this circus they are seeking to create and milk for all its worth, then I'll take my chances with Rosemary!
But I still take offence at my friend being referred to as anyone's baby. In her one liner communications during those dinners, it was clear Anne communicated feelings about family which were akin to those with attachment issues. Even in pointing her way through three word responses to me, I was aware that Anne was unnerved by having been dumped at age 3 in an institution, one I had no doubt she'd she detested and felt both demeaned and traumatised by. I remember once when I suggested Rosemary was like a mother to her, that Anne herself had, through pointing on the letter board, cast off any presumption or suggestion anyone, including Rosemary, was her mother, Bev McDonald. Sure, Rosemary and Chris were family to her, but neither saw the other as in a parent-child relationship. It always seemed obvious to me, that Anne, like many abandoned children, was her own mother.
Anne's mother is now 70, perhaps thinking about her own legacy, her own glory, and how she'll be remembered. And that may not taste very nice. Not if Anne was an achiever who convinced a Federal Court Judge in a typing test that her communication was her own.
Anne McDonald (11 January 1961 – 22 October 2010) was an Australian author and an activist for the rights of people with communication disability.

McDonald was born on 11 January 1961 in Seymour, Victoria, a small Australian town. As a result of a birth injury she developed severe athetoid cerebral palsy. She was diagnosed as having severe intellectual disability and at the age of three was placed by her parents in St. Nicholas Hospital, Melbourne, a Health Commission (government) institution for people classified with severe disability, and lived there without education or therapy for eleven years. During her time in the hospital she was neglected and starved and at age 16 she weighed only 12 kilograms. Despite her ill-treatment, McDonald considered herself "a lucky one", who escaped through a stroke of good fortune. By her own reckoning, 163 of her friends died in the institution while she was there.[1]

In 1977, when McDonald was 16, Rosemary Crossley was able to establish communication with her through a method known as facilitated communication training. Once McDonald was able to make her wishes known she sought her discharge from St. Nicholas. Her parents and the hospital authorities denied her request on the grounds that the reality of her communication had not been established. In 1979, when McDonald turned eighteen, she commenced a habeas corpus action in the Supreme Court of Victoria against the Health Commission in order to win the right to leave the institution.[2][3] The court accepted that Anne McDonald's communication was her own and allowed her to leave the hospital and live with Rosemary Crossley. More Supreme Court proceedings and further tests were required to win the right to manage her own financial affairs.[4][5](from Wikipedia)
Not if, like so many non-verbal adults with autism who came to type independently, Anne taught herself to read through watching Sesame Street for years in the institution where the television was often their only company. Not if as an adult, Anne convinced a university that her essays were her own enough to, like many with CP, gain a university degree or was awarded for her achievements.
After leaving the institution McDonald got her Higher School Certificate (University entrance) qualification at night school and went on to take a humanities degree at Deakin University, completed in 1993. She has written a number of articles and papers on disability, has spoken at a number of conferences, and has been active in the disability rights movement, with special emphasis on the right to communicate[6][7][8].

On the night of the 3rd December 2008 McDonald received the Personal Achievement Award in the Australian 2008 National Disability Awards at the Australian Federal Parliament House as part of that years International Day of Persons with Disabilities.
Not if, in 2010, not long before her death from heart attack at the age of 50, Anne wrote her a letter to her mother letting her know she wished to cease all contact on the basis it hurt too much to have a mother who, in spite of all she'd achieved, could never believe in her communication.
And what evidence did Anne's mother put forward as 'proof' Anne's communication was not her own? She claimed she had, on a visit, whispered to Anne rude remarks about the person Anne most trusted and relied on, Rosemary Crossley. As Rule writes:
Bev McDonald quietly tried the alphabet board but when she held her daughter's arm nothing happened unless she moved it herself. She desperately wanted Anne to communicate with her but not desperately enough to delude herself. Once she held Anne's elbow and subtly guided her arm to tap out a deliberately rude message about Rosemary Crossley, all the while watching Anne's face for some reaction. There was none. Other times, she would give Anne messages to pass on to Crossley. None were.
This is evidence? Was it a test to see if Anne was a mindless sycophant? A test to see if Anne would do her mother's competitive narcissistic dirty work and pass on an emotional dig her mother was too passive aggressive to say to Rosemary directly? How many of us, dumped by that parent, would then take the venom they'd made us carry and pass it on to the intended recipient? And if we didn't, does that make us retarded? Or too emotionally intelligent to participate in what we perceive as passive-aggressive trash behaviour? If the mother who had dumped us into an institution whilst keeping all our siblings was now being an experimenter with our own hand, whilst fixating intrusively on every emotional expression from our face, would we experience this as insulting, demeaning, psychologically and emotionally abusive? I sure would.
Whilst Bev McDonald may have portrayed herself to Rule, Critchley and others as desperately hoping Anne could communicate, how would Anne proving this to her actually have made her feel? That the child she'd discarded all those years was as intelligent as herself? Lip service and advertising aside, would she REALLY have hoped for that? Or, more to the point, feared that? If I was unable to use verbal speech or run away and my abandoner was abusing me like this, I bet I'd dissociate from them experimenting on me.
The remaining evidence cited by Andrew Rule? Apparently, after the age of 18, Anne had typed she missed her rabbit 15 years ago when placed in the institution at age 3. And Anne's brother, apparently impressive policeman, Ewan McDonald, and his now 70 year old mother say, shock… drum roll…. that Anne never had a pet or toy rabbit!!! OMG! So if after 15 years Anne, who had been non-verbal at the time and unable to check the identity of a toy, misremembered a teddy as a rabbit this is suddenly evidence we must tear down everything a Federal Judge and University held to – that Anne McDonald was her own person, a person capable of making intelligible choices and expressing these through pointing on a letter board whilst supported. But wait, there's more… Rule cites Anne's brother:
When Ewan was older he would talk to Anne about football – and suggest taking her to an Essendon game. Footy was one subject the family shared. Surely, he thought, if she could communicate freely, she would make some reference to it through Rosemary. But it seems she never did.
So a woman with no ability to run, walk nor even easily visually track players or a football in a football game, was presumed to be so interested in a sport she could never physically imagine that when she didn't go home and talk about it to Rosemary, this was obviously proof she was too retarded to communicate or understand? Did it ever occur to Ewan that just maybe Anne was more interested in art galleries, going to the theatre and drinking at the pub with the care assistant's than footy? And if he was that interested in knowing the sister who'd been institutionalised from the time he was 5 until he was 18, maybe he'd have thought about offering to take her to something SHE was already known to relate to and enjoy. Rule cites Ewan further:
Anne could certainly communicate to let you know if she was happy or annoyed. Away from Rosemary she was invariably cheerful and laughing. If she was so angry and outraged at the way she was treated, common sense indicates she would display that. But she didn't.
Ewan never spent time with Rosemary so he was hardly in a position to compare how she was on the few occasions they were together with how Anne was in the 32 years of daily life she spent living with Rosemary. I can say I was at dinner with Anne monthly for several years. We'd arrive around 6pm and leave around 10.30pm. Anne would be present that whole time. She was cheerful and laughing much of the time. At other times she'd get a determined, feisty look when she felt strongly about something. Her usual flailings and noises would change and its true you could tell she was annoyed. Then the letter board would be presented to her and we were treated to some classic one liners. Sometimes these were one word, more often a three word phrase. But Anne's comments were sharp as a knife. She made those few words really count and she had strong opinions.
So what did Anne's sister Ros, have to say about Anne's communication? Unlike Anne's mother or brother, Ros was the only one who maintained ongoing contact with Anne once she left the institution so really the only one of Anne's relatives qualified to comment. Yet the letter she sent the Herald-Sun after the article by Andrew Rule was not even published. Why? Because it didn't support Andrew Rule:
Letter to the Editor, Herald Sun from Ros McKay, Anne McDonald's youngest sister

I am Anne McDonald's youngest sister, Ros. I am the only family member who chose to become involved with Anne after she began living with Dr Crossley, and consequently I had the privilege of getting to know my sister for the last 16 years of her life.

Facilitated communication (FC) is not fantasy and is not a skill obtained overnight or on demand. It is something that varies from one person to the next, depending on their disability. Success in using FC can be affected if the person communicating is experiencing spasms or pain, is tired, or is not ready or wanting to speak, the same as any able-bodied person. FC can be physically draining and nerve racking for the person communicating. It requires patience and consistency from the facilitator and the person communicating, over a period of time.

Anne's ability does not automatically prove other people's abilities but I can verify my sister's. I communicated with Anne using the alphabet board. This was no fairytale.

I am deeply grateful for Rosemary's and Chris Borthwick's involvement in Anne's life. They have proven to be good stewards and became Anne's cherished friends.

I am not a doctor, psychologist, lawyer, speech therapist or policeman – I have no letters after my name: no career to bolster, no book to write, no face to save. I know what I know because I turned up and kept trying.

Ros McKay
Rule grasps at straws that include an assumption that in film based on biographical works, names are not changed unless there is doubt of the validity of the story.
He goes on to suggest that Angela Punch-McGregor, who played the character based on Crossley, was also uneasy about the validity of the role once she had seen Crossley "facilitate" Annie McDonald. This wariness was apparently shared by the film-makers, because they fictionalised all characters' names, an odd thing to do with a "true story" directly based on a biographical book.
Really? As a screenwriter I have learned that in the many years of editing and re-editing of book to script and from script to screen, the condensing of years of events into a one hour visual requires such filmaking devices that being true to life is virtually impossible unless doing a documentary. As such it is normal to fictionalise film characters and to rename actual ones if only because dramatic film, by its nature, is true to emotional truth at best. Dramatic film also requires such levels of financial investment to get made the risks of anyone not liking their portrayal is managed easily by giving them another name. In other words, changing names is standard, as is the use of 'BASED on a true story'. As for a leading actress needing to know if a biographical story is based on real events, real people, sure, why not. But every actress knows whether they are in a dramatised ADAPTION of a true story or a doco. And as an actress, Angela Punch-McGregor would be no exception.
Anne expressed she was nobody's 'baby'. Maybe the myth, the fairytale, the inability to face reality, might be that of a 70 year old woman who never had her moment of glory. But that 70 year old may well have been Anne's own embittered mother and her comments just happen to sell a juicy tabloid story in an era where cyberstalking and troll behaviours are deemed normal enough to pass for journalism – especially if it might also conveniently launch Critchley's book.
A number of key factors in Cyberstalking have been identified:

* False accusations. Many cyberstalkers try to damage the reputation of their victim and turn other people against them. They post false information about them on websites. They may set up their own websites, blogs or user pages for this purpose. They post allegations about the victim to newsgroups, chat rooms or other sites that allow public contributions, such as Wikipedia or Amazon.com.[5]
* Attempts to gather information about the victim. Cyberstalkers may approach their victim's friends, family and work colleagues to obtain personal information. They may advertise for information on the Internet, or hire a private detective.
* Encouraging others to harass the victim. Many cyberstalkers try to involve third parties in the harassment. They may claim the victim has harmed the stalker or his/her family in some way, or may post the victim's name and telephone number in order to encourage others to join the pursuit.
* False victimization. The cyberstalker will claim that the victim is harassing him/her.
* Arranging to meet. Young people face a particularly high risk of having cyberstalkers try to set up meetings between them.[7] (from Wikipedia)
And what did Anne have to say about her doubters? She may be dead but her writings still speak for her:
I have listed some of the validation tests that I was given. I did not do those tests willingly. I was outraged at having my existence as a person called into question. I felt insulted, humiliated and demeaned by being put through test after test when I felt that I had already proved myself adequately. Even now, twenty-seven years after I established my abilities in court for what I thought would be the very last time, I still have my communication doubted by people who have never taken the trouble to inform themselves of the facts on the public record.

I've proved my communication, but even if I hadn't I don't think I should be subjected to this. My communication is my business. If I have complaints about misinterpretation I can make them to another communication partner. If a partner consistently misinterprets me then I cease communicating with them. In general I only have minor problems with misinterpretation, and I would see any attempt to validate my communication or that of my partners as a violation of my privacy. I objected to it in the Supreme Court and I still object.

While there may be specific instances in which validation of specific communication may be necessary, to suggest that people only be allowed to communicate if they've passed any test any skeptic wants to push on them is not only impractical but a violation of civil liberties. Communication is not easy for people like myself, and there is nothing to gain from regulating my right to talk to whoever is prepared to take the time to listen.
How can Howard Shane say that he is trying to help people with disabilities when he tries to push me out of the human race? First I was institutionalized as an affront to humanity, then evidence that I was not intellectually impaired was concealed, and then professionals like Howard Shane tell everybody that I cannot communicate. If this is what my 'friends' do, what can I expect from the community at large?

In fact professionals are not my friends. I challenge them by being living proof that their tests and judgments are fallible. I am not the beneficiary of the work of professionals — I am their victim. I can't get away from my disability, but I should be able to escape being cast as a permanent patient, or a permanent child.
Donna Williams, BA Hons, Dip Ed.
Author, artist, singer-songwriter, screenwriter.
Autism consultant and public speaker.
http://www.donnawilliams.net
I acknowledge Aboriginal and Torres Strait Islander people as the Traditional Owners of this country throughout Australia, and their connection to land and community.