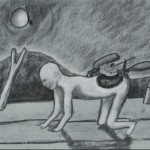 Who am I? I found this original amidst my own works. I don't remember creating it and struggle to believe its my work. Is it a copy of a known work? Do you recognise it? Who is the artist?
Donna Williams, BA Hons, Dip Ed.
Author, artist, singer-songwriter, screenwriter.
Autism consultant and public speaker.
http://www.donnawilliams.net
I acknowledge Aboriginal and Torres Strait Islander people as the Traditional Owners of this country throughout Australia, and their connection to land and community.