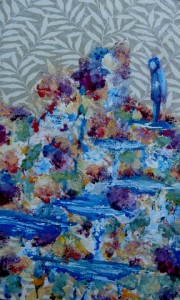 Have you ever been bored looking at perfectionist, somewhat predictable art which just fails to draw you in, fails to connect, fails to transport you anywhere? When I paint I want to create atmospheres I want to walk into, touch, even eat. I want dripping ice-cream colours, textures that make me feel I've touched them even though I've only seen them. And most of all, I want to shrink and enter the painting, walk around within the paint, experience the colors and textures directly, from WITHIN the painting.
Sure, you may think 'she's had too many drugs' or 'what's she on and where do I get some!', but for me this ability to enter into objects has been with me all my life. At six months old I was getting eaten by the wallpaper, lost in the light bulb. So now at 48 I'm creating dreamscapes I can dissociate into, and then I express how I feel in there through my little figures, I guess, these are avatars. The little figures interact with the viewer and with the painting. The viewers commonly want to touch them, wonder why they're drawn to these little people. Perhaps it is because they are more than part of a painting.
In the attached work, Amidst The Pallette, the 'avatar' in this dreamscape has entered a highly textured icecream world. I'll take a pass on the drugs. Hand me a paintbrush.
Donna Williams, BA Hons, Dip Ed.
Author, artist, singer-songwriter, screenwriter.
Autism consultant and public speaker.
http://www.donnawilliams.net
I acknowledge Aboriginal and Torres Strait Islander people as the Traditional Owners of this country throughout Australia, and their connection to land and community.