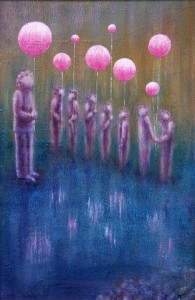 A selection of my signed Limited Edition art prints are up for sale for a limited time on Ebay.
ABOUT DONNA:
Donna Williams is the author of two international bestselling autobiographies and has 10 published books including 4 text books and one of the most well known people diagnosed with autism in the world. As a screenwriter, she wrote the screenplay to "Nobody Nowhere", the first book in her 4 book autobiographical series. That screenplay is currently under option to become a Hollywood film. She is a singer-songwriter and published poet as well as a professional artist, whose work has sold around the world and has exhibited in New York and Beijing. Donna's website is at http://www.donnawilliams.net

What people say about Donna's art
"Donna Williams' music WILL touch you. She is an artist in ways that are incomprehensible to most. I urge you to listen, read, and check out her paintings and sculptures, for she epitomizes the word ART, as she is a master work in and of herself".
– Natalie "NMW" , USA
"Donna is a talented Artist with a capital "A". I had the pleasure to work with her on many different projects. Her stunning and uncompromising approach to creativity, is a breath of fresh air of a multi facetted talented complete Artist."
– Serge Conein, Serge Fine Arts, UK
She is a hugely original and inventive artist. I am constantly impressed by her capacity to create and communicate in so many different ways."
– Lucy Paplinska, Documentary Filmmaker, Humming Films (AUS)
If you've wanted one of my original artworks, or want to buy one as a fundraiser for a charity auction, now's a good time to grab one in this sale. It lasts 6 days so be quick. You can find the ebay link here. The $10 postage is the same whether in Australia or worldwide.
Happy bidding.
Warmly,
Donna Williams *)
author, artist, singer-songwriter, screenwriter.
http://www.donnawilliams.net