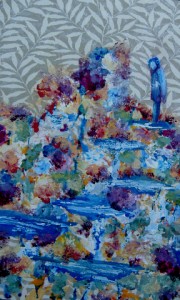 Chris insisted I blog about our icecream tonight… and it was scrummy.
The base of it is cashew cream
to make this you take RAW CASHEWS, through them into a blender
add RICE MILK enough to mix this to a cream texture.
you can use a mixture of HAZELNUTS and CASHEWS instead of just cashews if you wish.
Once you have this 'CREAM'
you sweeten it
I used RICE MALT, MAPLE SYRUP, XYLITOL
Next you have to FREEZE IT
to do this you need to have 2 trays of ICE BLOCKS
if you made them from RICE MILK they'll be creamier when crushed
throw the ice blocks into your blender with your sweetened cashew cream mixture (provided it can handle crushing up ice cubes, ours can).
As the ice blocks fragment into crystals the mixture will start to freeze and whip at the same time.
when the texture appears soft and fluffy, scoop out half of the mixture into a bowl.
to the remaining half left in the blender, add vanilla
whip it all again, then scoop this out into small containers and put in the freezer.
rinse the blender.
with the other half of the mixture, put it into the blender and add decaf coffee (decaf is low salicylate, caffeinated is not). Blend, then check the taste is not too strong.
Scoop out into small containers and put in the freezer.
On serving, if the icecream is too hard to scoop, then run hot water over base of container to release ice cream from it. Use a carving knife to cut it into large chunks, put these into the blender, add some rice milk and blend until it turns into 'soft serve'. Dish up and enjoy.
🙂
Donna Williams, BA Hons, Dip Ed.
Author, artist, singer-songwriter, screenwriter.
Autism consultant and public speaker.
http://www.donnawilliams.net
I acknowledge Aboriginal and Torres Strait Islander people as the Traditional Owners of this country throughout Australia, and their connection to land and community.