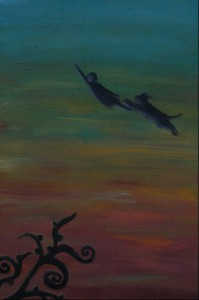 Hi ho Silver, away!
Lone Ranger, you were not
not even in your golden child cowboy suit back then
not even with me tied to the pole in the back yard
awaiting rescue…
from you.
Our horse, Neddy, was a pouffe with a head
reigns and a saddle, stirrups and ears of patchwork and vinyl
smelling of the 60s
and sweaty kid's legs
and nicotine tar
confined to a wallpapered living room
I rode away on Neddy,
in my labyrinth mind
a dissociated head
full of echoes and ghosts
away from you, the golden child,
the sycophant puppet
away from the brother and sister
we never were nor ever would be
You had a gun. BANG!
Caps at my ears…ha ha ha
BANG!…Ha ha ha…BANG!
Cowboy hat on your head, silver sheriff's badge,
vinyl holster, toy spurs
pumped up, bumped up, pomped up
bursting with pride and nothingness,
bursting with wannabe dreams of a boy between worlds.
Then I turned, to see you on the porch
silhouetted twelve year old, with automatic rifle
you fired six rounds
Johnny's three year old hand, in my ten year old one
we flew like Silver beyond the gate and brick fence
we flew though a lane way, little Tonto and I
we flew amidst bullets and dobermans, sirens and screams
and you were not the Lone Ranger
Because I was.
by Donna Williams
Donna Williams, BA Hons, Dip Ed.
Author, artist, singer-songwriter, screenwriter.
Autism consultant and public speaker.
http://www.donnawilliams.net
I acknowledge Aboriginal and Torres Strait Islander people as the Traditional Owners of this country throughout Australia, and their connection to land and community.