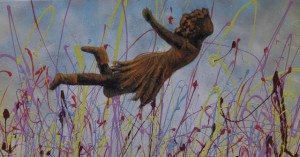 Being 49 years old and just diagnosed with EDS IV (vascular type) I ask myself how I got this far with a condition that has an average life expectancy of 40 years old and a median life expectancy of 48. I have certainly had a lifetime of health issues but I haven't had the brain aneurysms or uterus rupture of my cousins nor yet had the diverticulitis of my brother. Did I do anything differently to others growing up with EDS IV? Here's my views on what I may have done right, by choice, by default, by accident.
Age 6 months to 26 years old – I had recurrent upper respiratory tract infections, chronic bronchitis, regular ear infections, so I was on antibiotics around every 6 weeks for my first 26 years. Given Doxycycline is an antibiotic and one of the only two medications showing promise in reducing ruptures in EDS IV, is it possible the range of other antibiotics all these years (which may also have included Doxycycline) reduced my risks during my first 26 years?
Age 5 to 8 – I did intensive dance classes several times a week, probably harming my joints but at least building rather hypotonic muscles, stamina, tolerance, determination and helping nutrition to my veins. This training meant that I continued to dance throughout my life in one form or another and continued to be as physically active as possible in my 30s and 40s in spite of severe fatigue, pain and ongoing health issues.
Age 9 – my younger brother and I weren't growing. I was the 2nd shortest girl in the school. We were both thin, pale. The doctors suggested zinc. When the zinc got us growing, my mother added vitamin C tablets which me and my younger brother ate whenever we wished… probably around 2000mg a day. As I had autism and was mostly meaning deaf, and had a very restrictive diet, my mother followed a TV advertisement for Pluravit multivitamin-minerals and put me on those too. So in nutrition terms, as someone who was possibly not digesting my food properly and losing nutrients, this supplementation probably helped the health of my veins at that time. I was on these until around age 13. So I had four years on supplements, including calcium which may have helped my bone health.
Age 9 to age 17 – I had severe chronic anxiety (probably part of tachycardia in POTS) and was put on sedatives at age 9. This probably reduced a level of oxidative stress from chronic anxiety which may have reduced the rate of degeneration of my connective tissue.
Age 10 – The dentist told my mother I had a 'calcium metabolism problem' and that I'd likely lose my teeth by my teens. Not sure if I was then put on additional calcium but from age 26 onwards I have been on calcium supplementation, probably reducing osteopenia people with EDS IV tend toward.
Age 11 – I was diagnosed with juvenile arthritis and put on anti-inflammatories. I stayed on these until age 17. Chronic inflammation harms all connective tissue in the body. So whilst the anti-inflammatories probably contributed to my neutropenia, it may have decreased the level of degeneration of my connective tissue.
Age 19 to 22 – I developed migraines. Because of my early history of being on supplements I went onto vitamin C again and antioxidants. It is possible I again reduced my levels of systemic inflammation and thereby reduced the rate of degenetative damage to my connective tissue.
Age 25 – I quit smoking. Like many homeless teens, I was introduced to smoking when I was 13. Being poor, having asthma and having a history of chronic bronchitis I never smoked much, often only 5 cigarettes a week and quit several times. Finally, at age 25, in a time before patches, I took my cigarettes, semi broke them, wet them and poked them with pins, put old butts and ash in the cello cover so I'd smell and see that whenever I went to smoke and left my ashtray stinking and full to put me off. At the three month mark I struggled, but I made it. I have not smoked since the age of 25, saving my veins and connective tissue from a lot more progressive damage.
Age 26 – I was diagnosed with severe reactive hypoglycemia, CFS/FM, food allergies, food intolerances, nutrient deficiencies. I went onto a diet and supplementation that dramatically reduced my levels of inflammation. I stayed on this regime ever since… to my present age, 49, including bioflavinoids, to stop my gums bleeding but which are also used for improving elasticity of veins.
Age 37 – Bleeding lead to the diagnosis of an ovarian cyst threatening to burst the ovary. Keyhole surgery was booked for the removal of what was presumed the right ovary. On going in they found it was not the right ovary but the left one that had traveled to the right side with an utra long tube and that I was full of abdominal adhesions. I was quizzed by the perplexed surgeon who felt I must have had multiple abdominal surgeries to have something like this (I'd never had any). He did open surgery, tidied up all the adhesions which were joining all my organs up to each other and had the problem ovary removed. This probably saved me from organ ruptures, twisted or obstructed bowel and saved my life by default.
Age 38 – Following the ovary removal and in spite of having met and married the love of my life, I decided that as an immune deficient person with one ovary, I would voluntarily never have my own children. As such I have perhaps saved myself from the same uterus rupture my cousin had and from which our shared great grandmother died following childbirth.
Age 39 – I sought medication again for the severe chronic anxiety and stayed on this until age 47, perhaps again reducing oxidative stress and reducing the rate of degeneration of my connective tissue. I went onto 2000mg omega 3s daily, which helps with anxiety, mood, but also vascular health
Age 40 – With the diagnosis of my IgA deficiency in addition to life long neutropenia, I was started on immune boosters. These a high level nutritional supplements used for people with immune deficiencies and in cancer recovery. As such I may have given my connective tissue, including veins, a high level of nutrition, perhaps reducing the degeneration of my connective tissue.
Age 46 – I had 7 months of Haemophilus, was diagnosed with IgG2 deficiency and was on antibiotics for 7 months, as well as Prednisolone. At the end of this I was put on daily prophylactic Doxycycline, a drug used in studies with EDS IV mice which has been found to reduce ruptures to the same levels as the non-EDS IV mice. I was on Doxycycline throughout my mastectomies for breast cancer at age 48, and during chemotherapy, including whilst on Neulasta, a life saving drug used with severely neutropenic patients but with a known side effect of possible spleen rupture. I had this drug 4 times and no spleen rupture. Was this because the Doxycycline protected me? I did have a 15 cm bruise from the chemotherapy IV so the vein issues were still present, but I didn't have any organ rupture. As such, I'm now 49 and still standing.
Age 48 – my diagnosis of dysautonomia during chemo lead to confirmation of this by the cardiologist and simultaneously I was diagnosed with moderate-severe Mixed Apnea (largely Central). Untreated apnea runs risks of heart attack and stroke, something that with EDS IV I'd have had a higher risk of anyway, and apnea related hypoxia progressively damages all tissue in the body, including connective tissue. I now have a sleep machine that manages my apnea, saving me from all this. I also went onto sodium (6g across the day reduces my dysautonomia), citrulline (has helped manage daytime apnea), higher magnesium (has stopped severe muscle spasms, muscle constriction and associated muscle tears) and calcium (has normalised the cardiac arrhythmia and associated chronic anxiety), all of which probably reduces some level of stress on my organs and veins.
I'm now 49, live on a diet suited to my allergies, taking supplements daily, sleeping with a sleep machine, exercising regularly but never excessively. I do deal with dysautonomia, spinal stenosis, joint pain and mobility issues, severe pain in my feet and small veins that pop in my fingers but so far the big ones and my organs are still holding. I consider myself lucky, have lived an amazing and wonderful life, making the most of all the good and all the bad, and all of my potential. And if I went tomorrow have no regrets.
Donna Williams, BA Hons, Dip Ed.
Author, artist, singer-songwriter, screenwriter.
Autism consultant and public speaker.
http://www.donnawilliams.net
I acknowledge Aboriginal and Torres Strait Islander people as the Traditional Owners of this country throughout Australia, and their connection to land and community.