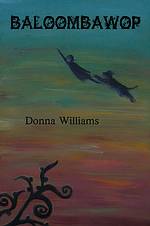 Baloombawop, is an illustrated 51 page off the wall hilarious adventure story by Donna Williams told in Dr Seuss/Roald Dahl/ Lewis Carrol like rhyme from start to finish. It was written and performed as a children's rock musical by Donna and The Aspinauts throughout 2009 and captivated both special needs and mainstream alike including 'kids at heart'.
The land of Baloombawop and its crazy characters – The Gadoodleborger, Dame Grumpty Do, The Brookenstein Fox, Boogerlooger, Charlie Warmton, Bluster Mc Fluster, The Whirly Twirl Girl, The Gimmety Gimme – almost spring off the page and each can easily lend themselves to individual drama activities.
Suitable for kids of all ages and kids at heart, Baloombawop can also be used as a springboard from which to discuss difference, individuality, diversity, and society's fears of these…. and how our different 'normalities' make our world so much more colourful.
Its available now as an E-book (PDF) and you can get a copy directly from Donna within 24 hours of purchase for $5 (AUD). No postage costs or queuing, no wait time. You can even gift it to someone. Just include their email address when purchasing.
Donna Williams, BA Hons, Dip Ed.
Author, artist, singer-songwriter, screenwriter.
Autism consultant and public speaker.
http://www.donnawilliams.net
I acknowledge Aboriginal and Torres Strait Islander people as the Traditional Owners of this country throughout Australia, and their connection to land and community.