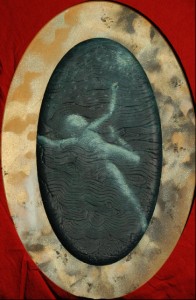 This month's artwork is titled 'Starman'.
It is 38 cm x 58 cm, acrylic on wood. What comes to mind is the Bowie lyric "There's a Star Man Waiting In the Sky'. This painting is a movement from my flying figures to one which is way out in space, in zero gravity, not flying but floating. Flying dreams have been with me since at least age 3 and I remember believing I had actually flown, not understanding the lucid dreaming nature of flying dreams. Flying dreams, and this one of floating in space are about transcending. In other ways they are also about dissociation, particularly from the body, and something that comes perhaps easier to people with autism, certainly to multiples.
Perhaps part of this is because of peripheral neuropathy and the challenges of losing sensation at times in my legs, them going weak of having buzzing. Floating in space I wouldn't notice. In this kind of suspended animation nor would I notice the near daily hypoventilation I babysit which makes me feel floaty, dizzy at times, before I go take more Citrulline to increase respiration again. I hope you enjoy the painting. You can see it and others in my online gallery.
Warmly,
Donna Williams *)