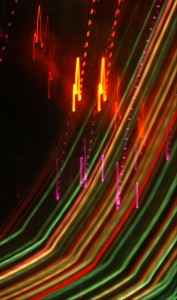 I went through breast cancer treatment in 2011 at the age of 47. As a person with autism the process was probably a bit different for me. I was diagnosed with autism in a three day hospital inpatient assessment when I was age 2 and am now one of the luckier ones in that I am now quite 'high functioning'.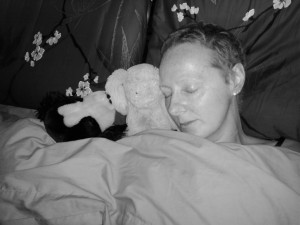 But I've come a very long way and I'm still quite severely face blind, I have a language processing disorder so still lose around 30% of what is said to me, a visual perceptual disorder means that without my tinted lenses I see everything bit by bit (my glasses had to come off sometimes) and I struggle to process on several sensory channels at once so keep losing track. I only gained functional speech by late childhood and interactive communication by my late teens, struggle to process complex information in my head (so need gesture, lists, representational objects, mind maps) and struggled to simultaneously process a sense of self and other until I was 32. I'm also immune deficient and had a genetic collagen disorder I didn't know I had so when it came to chemo I didn't fit the 'tidy boxes' and my body was behaving like a three ring circus.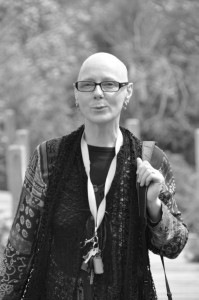 My autism effects everything – perception, sensory experiences, comprehension, how I conceptualise, real-time processing, communication, interaction, social familiarity, emotional expression, my relationship to my body, my physical reactions, entrusting control to others, even taking my body, my thoughts or emotions personally or seriously. In spite of this I made friends, lived independently, returned to education as an adult, got a degree, became a teacher, a published author, an international public speaker and a respected autism consultant and married a wonderful person – Chris – who I've been with now for 14 years. Cancer put a sharp bend in our road. I still have a fabulous life and a great marriage, and a few highly valued good friends. I still have some involvement with the autism world as a speaker and consultant, but cancer changed so much in my life, most of it positive. I retired six months after treatment, at the age of 48, became one of the youngest people at U3A, began teaching art and drama, singing, doing performance poetry and enjoying two cats who came to live with us post cancer – Mini and Max.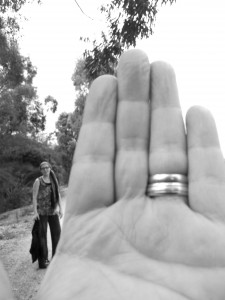 Among the experiences I had to make autistic sense of were the mammogram experience, to getting the news from my GP, to going to a CANCER hospital, to biopsy in a cinema type dark room with three staff and machines and body invasion, to visually navigating the building and following verbal directions, MRI machines, 7 attempts to get a vein (including going for my feet), being expected to meet new specialists, let alone being expected to stay in hospital, two mastectomies, hooked up to tubing and expected to pee in a pan held by a nurse, to the chemo suite, severe autonomic dysfunctions and chemo brain on top of my autism challenges, then estrogen blockers for the woman with a collagen disorder – what a party!
I think the breast surgeon was a bit surprised when I chose to be a Flatsy, going breast free with no reconstruction. She was concerned I'd change my mind but did finally get to grips with the logic of my decision and that as someone extremely logical and pragmatic that in terms of living with a double mastectomy (I was 6 months with one breast, then had the other removed) this was as close to 'normal' as I could get. I have never regretted that choice, though the way I dress as someone breast free is different… there's no cleavage, no darts in the breast area, no scoop neck or clingy tops. I wear tops and dresses with a lot of flow, with gather and yolks, with layers and patterns and texture. People say 'I'd never have known', not that it worries me that much. I feel attractive, womanly, sensual.
It hasn't dimmed my sexuality (yes many 'high functioning' independent living autistic adults do have sex ;-). I also feel my autism did me great favors in coming to terms with cancer and cancer treatment with a degree of logic, practicality and straight forward decision making that perhaps I'd not have so easily had if I were not autistic. I also feel that though autism can make it very difficult to adapt to change, I am very good at focusing on a project and I made adaptation itself that project, determined to become great at it, and I have passed with flying colours. Even the threat of a potential death from cancer one day (a vast percentage of my relatives have gone from cancer) does not daunt me. I have already thought through, felt through all the angles, all the issues, got my head around the subject. When death comes for me I will negotiate well, but I'm also willing to work with it when I finally have to. But until then this Taoist is committed to Joie De Vivre.
My GP is used to me arriving with lists and speaking from those (otherwise I struggle to track my speech, stay on track or know what I've asked) but my specialists also had to get used to this as my natural communication. I also tend to grab desk objects to represent and track the inter-relatedness of the components of what people are saying. They were all great with it.
When cancer was meant to be over, peripheral polyneuropathy decided to take up permanent residence and two years on I'm still juggling its challenges. In my case that means I sleep with a ventilation machine now, I have another in the car for long trips as a passenger, one in the living room in case I'd like to snooze, because I go into hypoventilation and have central apneas now. My legs are misbehaving so I'll see what the neurologist has to say about that soon. The rest of it, burning, numbness, stabbing, tingling, surging pains, are episodic and intermittent enough to be eventually 'the little stuff' so I try and not sweat the 'little stuff'.
I still have follow ups with the oncologist every six months. He's a good guy, autism friendly enough, keeps his language simple, bullet points, and he deserves a lot of brownie points for handling all my email communication and lists, but I still feel like a cat going to the vet when I have the privilege of a physical examination to make sure all the signs say I'm still in remission.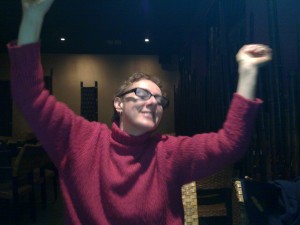 And this may all sound pretty normal to most folks, but when I was a kid I couldn't be physically handled. I was never cuddled since age 2 and only taught to tolerate holding when I was 14. I used to fight my way out of physical contact and though I'm highly sensory and very physical, physical contact was always strictly on my terms. Even with communication, I learned to initiate it, but its only been since my 40s that I easily handle when strangers initiate communication with me. And what is a stranger to a faceblind woman? Almost everyone. I do build familiarity eventually, but though I'm a warm and sunny, even fairly sociable personality, I'm aloof by nature. So reaching a point of familiarity is not easy for me, sensorily, perceptually, socially, emotionally. I have really clear boundaries between those I feel I know and those who are 'others out there', I guess 'my world' and 'the world'. So I know my specialists are lovely people, I know I'm still 'odd' when I see them, I do feel the social awkwardness of that, but I can't do anything about it. I hope they know how grateful I am for all they do, their commitment to their profession, to people with cancer, the accommodations they make for each patient, including me.
—
Donna Williams, BA Hons, Dip Ed.
Author, artist, singer-songwriter, screenwriter.
Autism consultant and public speaker.
http://www.donnawilliams.net
I acknowledge Aboriginal and Torres Strait Islander people as the Traditional Owners of this country throughout Australia, and their connection to land and community.