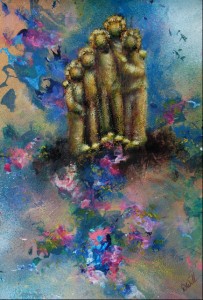 As a Taoist, I find the positives in otherwise negative experiences.
Had Chris Eipper not started his campaign, I would probably not have continued to write books after my third one. Instead I have ten published books including 4 text books used in training in special education and psychology courses around the world. Without the attacks on my character, the hatred, mistrust and controversy he fueled, I would probably not have worked so hard to focus on what use I could be to the world or put all my energies into the consulting work I did since 1996, having now worked with over 1000 families of children on the autism spectrum in countries around the world. Without the media interest he flamed into existence, we would not be able to look back at how archaic we were and how far we've come in terms of awareness about autism, the now laughable presumptions and stereotypes that surround it.
Without a new computer generation inspired to carry forward a Chinese whisper they have no idea of the origin of, I'd probably not have continued to have so many readers now over two decades since my first book came out. Without curiosity seekers still looking up 'Donna Williams controversy', I would never have disclosed so much personal diagnostic detail and complete pictorial history which has benefited the autism world as one of the most complete online diagnostic and pictorial histories of any well known person diagnosed with autism. For these things, I thank my critics, for the 'shit', and for the 'sculptures' I made from it.
Special thanks this Christmas to Caz Lane ( Carol Lane ) who on the 23rd of December, two days before Christmas day, has put aside her commitments to her family (including her autistic son) to spend 9am-3pm (so far!) scouring all my personal cyber spaces to try and publicly post the following quotable gems:
Your books are shit and I wouldn't wipe my arse on them

The only thing wrong with this idiot is facticious disorder. I find it particularly vile trying to exploit and make money out of those who really have these illnesses. Do not buy the bs she does not have a clue how it really is

Fake! How's the bank balance-time to buy another diagnosis yet?

Lies, lies and more lies. This woman is NOT autistic and definitely does NOT have DID. Some ppl will believe anything!

Utter rubbish. This woman is a fraud and a liar
Thank you Carol Lane… Caz Lane… Caz, because without passionate, concerned people just like you I'd have been forgotten years ago.
Donna Williams, BA Hons, Dip Ed.
Author, artist, singer-songwriter, screenwriter.
Autism consultant and public speaker.
http://www.donnawilliams.net
I acknowledge Aboriginal and Torres Strait Islander people as the Traditional Owners of this country throughout Australia, and their connection to land and community.