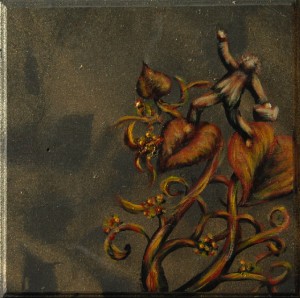 This month's artwork is titled 'Picnic'.
It is 20cm x 20cm, acrylic on wood.
It reminds me of people who are so busy they never stop to smell the roses. Or like that advertisement "have a break, have a Kit Kat", or was it a Picnic? So here's a character, brief case in hand, but not heading to work. Instead he's full of joie de vivre and climbing the vine on his way not to work, but to go picnic.
How many of us have someone we love to be with but they always seem busy, or they never stop, or they are no longer with us and there's so much we didn't get to share. Even my cats say, stop, come and hang out with me.
I hope you enjoy the painting. You can see it and others in my online gallery.
Warmly,
Donna Williams, BA Hons, Dip Ed.
Author, artist, singer-songwriter, screenwriter.
Autism consultant and public speaker.
http://www.donnawilliams.net
I acknowledge Aboriginal and Torres Strait Islander people as the Traditional Owners of this country throughout Australia, and their connection to land and community.