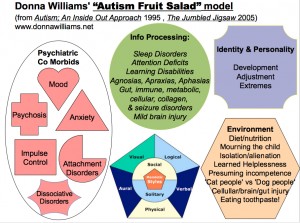 If you believe that Autism is NOT a 'Fruit Salad' of a range of other conditions presenting 'as the autism', then look through this list of 'Autism Fruit Salad' at all the things that can be taken as 'just parts of The Autism'.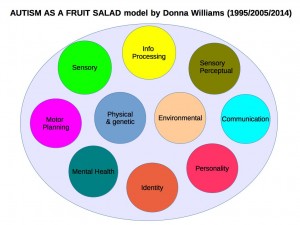 The following list of every presently known identifiable piece of 'autism fruit salad', is an expansion of my work on the theory of 'Autism As a Fruit Salad' which featured in two of my text books: Autism; An Inside Out Approach (1996) and The Jumbled Jigsaw (2005). This model was based on my work as an autism consultant since 1995.
From 1995-2011 I worked with over 1000 people diagnosed on the autism spectrum. In order to best address their needs I needed to fathom what was being called 'their autism' and work out the underlying mechanics of this. Since 2011 I continue to use the 'Autism as a Fruit Salad' model in my work as an online autism consultant. From that work I found the most commonly occurring pieces of 'Autism Fruit Salad' were these: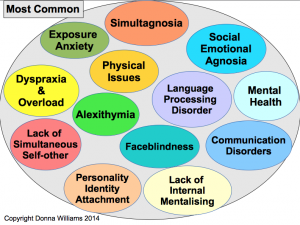 Here, however, is the more extensive list:
BEHAVIOURAL
STIMMING
BLOCKING BEHAVIORS
ORAL FIXATION DISORDER
SENSORY SELF STIMULATION
FIXATIONS

SELF CARE
SELF CARE DEFICIT

CONDUCT
CONDUCT DISORDER
CONTRARIAN
OPPOSITIONAL DEFIANCE DISORDER
PATHOLOGICAL DEMAND AVOIDANCE SYNDROME
REWARD DEFICIENCY SYNDROME
WARRIOR GENE (MAOA)

EATING DISORDERS
CYCLIC VOMITING SYNDROME
EXPOSURE ANXIETY RELATED EATING/DRINKING DISORDERS
FOOD NEOPHOBIA
HYPERPHAGIA
PICA
POLYDIPSIA/ADIPSIA
RUMINATION SYNDROME
SELECTIVE EATING DISORDER

TOILETING
COPROPHAGIA
ENCOPRESIS & ENURESIS
EXPOSURE ANXIETY RELATED TOILETTING PROBLEMS
SHY BLADDER & SHY BOWEL

SEXUALITY
ASEXUALITY
COPROPHILIA
HYPERSEXUALITY
PARAPHILIAS
COGNITIVE
INFORMATION PROCESSING
INFORMATION PROCESSING DELAY (part of neurological integration issues)
INFORMATION OVERLOAD (consequence of information processing delay)
IMPAIRED PROCESSING OF SIMULTANEOUS SENSE OF SELF AND OTHER (can be part of neurological integration issues)
SYSTEMS SHUTDOWNS (consequence of information overload)

LEARNING

ACALCULIA & DYSCALCULIA
ALEXIA & DYSLEXIA
DYSGRAPHIA
EXECUTIVE DYSFUNCTION
NON VERBAL LEARNING DISORDER
LATERALISATION DISORDERS
LEARNING DISABILITIES
THINKING
ANALYSIS PARALYSIS
PRE-ATTENTIVE PROCESSING
NATURAL VARIATIONS IN LEARNING AND THINKING STYLES
VISUAL THINKING
LOGICAL THINKING
KINESTHETIC LEARNING
AURAL LEARNING
SOLITARY LEARNING
APHASIA
DYSPHASIA
ECHOLALIA (See ECHOPHENOMENA)
ELECTIVE MUTISM & SELECTIVE MUTISM
LITERALITY
LOGORRHEA
PRAGMATIC LANGUAGE DISORDER
SEMANTIC PRAGMATIC LANGUAGE DISORDER (See AUDITORY VERBAL AGNOSIA UNDER PERCEPTION)
SPEECH APRAXIA/VERBAL DYSPRAXIA
TONGUE TIE/ANKYLOGLOSSIA
ECHOGRAPHIA (involuntary repetition of writing)
ECHOLALIA (involuntary repetition of speech)
ECHOMIMIA (involuntary repetition of facial expressions)
ECHOPLASIA (involuntary repetition of drawings)
ECHOPRAXIA (involuntary repetition of actions)
LEXILALIA (involuntary repetition of reading)
PALILALIA (involuntary repetition of one's own words)
EXCEPTIONALITY
CHILD PRODIGY
EIDETIC MEMORY
ENCYCLOPEDIC MIND
GEEK SYNDROME
GIFTEDNESS
HYPERTHYMESIA/HSAM
LATE BLOOMER
POLYMATH
SAVANT SYNDROME
TWICE EXCEPTIONAL
MENTAL HEALTH
ATTACHMENT
ATTACHMENT DISORDER
COUNTERDEPENDENCY

ANXIETY

CATASTROPHIZING
EXPOSURE ANXIETY
GENERALISED ANXIETY DISORDER
PANIC DISORDER
PHOBIAS
SEPARATION ANXIETY DISORDER
SOCIAL ANXIETY DISORDER
SOCIAL PHOBIA

COMPULSION & ADDICTION
BODY RELATED
BODY FOCUSED REPETITIVE BEHAVIOURS
BRUXISM (teeth grinding)
DEPRIVATION COMPULSION
DERMATOPHAGIA (skin biting)
EXCORIATION DISORDER (skin picking)
GRATIFICATION DISORDER
ONYCHOPHAGIA (nail biting)
RHINOTILLEXEMANIA (nose picking)
SELF INJURY DISORDER
TRICHOTEMNOMANIA (hair cutting)
TRICHOTILOMANIA (hair plucking)

TECHNOLOGY RELATED
GAMING ADDICTION
INTERNET ADDICTION DISORDER

OTHER
BEHAVIORAL ADDICTION
OCD
TOURETTES

DISSOCIATIVE
AUTISTIC POST-TRAUMATIC DEVELOPMENTAL DISORDER
DISSOCIATION
DEREALISATION
DEPERSONALISATION
POST TRAUMATIC STRESS DISORDER (PTSD)
DISSOCIATIVE DISORDER NOT OTHERWISE SPECIFIED (DDNOS)
DISSOCIATIVE IDENTITY DISORDER (DID)


IDENTITY & ADJUSTMENT
ADJUSTMENT DISORDER & MALADJUSTED
BODY DYSMORPHIA
CLINICAL LYCANTHROPY
EMOTIONAL INCEST
GENDER IDENTITY DISORDER/GENDER DYSPHORIA
OLEFACTORY REFERENCE SYNDROME
SPECIES DYSPHORIA

IMPULSE CONTROL
IMPULSE CONTROL DISORDER
INTERMITTENT EXPLOSIVE DISORDER
INTRUSIVE THOUGHTS
PSYCHOMOTOR AGITATION

MOOD
MOOD DISORDER
ANHEDONIA
AVOLITION
CATATONIA
CYCLOTHYMIA
EMOTIONAL DYSREGULATION
DISRUPTIVE MOOD DYSREGULATION DISORDER
EMOTIONAL DYSREGULATION
SEASONAL AFFECTIVE DISORDER

NEURO-PSYCHOLOGICAL

MULTIPLE COMPLEX DEVELOPMENTAL DISORDER (MCDD)

PERSONALITY

AVOIDANT PERSONALITY DISORDER
ANTISOCIAL PERSONALITY DISORDER
BORDERLINE PERSONALITY DISORDER
DEPENDENT PERSONALITY DISORDER
MIXED PERSONALITY DISORDER
NARCISSISTIC PERSONALITY DISORDER
OBSESSIVE COMPULSIVE PERSONALITY DISORDER
PSYCHOPATHY
SCHIZOID PERSONALITY DISORDER
SCHIZOTYPAL PERSONALITY DISORDER

PSYCHOSIS
PEDIATRIC SCHIZOPHRENIA
DISORGANISED SCHIZOPHRENIA
SCHIZOAFFECTIVE DISORDER
MOVEMENT
ATAXIA
AUTOMATISMS
COMPLEX MOTOR STEREOTYPIES
HYPERKINESIAS
HYPOKINESIA/BRADYKINESIA
HYPOTONIA & DYSTONIA
INVOLUNTARY EMOTIONAL EXPRESSION DISORDER
NEUROLEPTIC MALIGNANT SYNDROME & TARDIVE DYSKINESIA
PSEUDOATHETOSIS
RESTLESS LEG SYNDROME
TOE WALKING
NEUROLOGICAL
PERCEPTUAL
AUDITORY & AUDITORY VERBAL
AUDITORY AGNOSIA
AUDITORY VERBAL AGNOSIA (WORD DEAFNESS)
CORTICAL DEAFNESS
PHONOAGNOSIA

AWARENESS
ANOSOGNOSIA

COMMUNICATIVE
ANOMIA

EMOTIONAL
ALEXITHYMIA

ORIENTATION
AUTOPAGNOSIA
ENVIRONMENTAL AGNOSIA
TOPOGRAPHICAL DISORIENTATION
VISUOSPATIAL DYSGNOSIA

SOCIAL EMOTIONAL
PROSOPAGNOSIA (FACE BLINDNESS)
SOCIAL EMOTIONAL AGNOSIA

TACTILE
ANALGESIA
ASTEREOGNOSIS
TACTILE AGNOSIA

VISUAL
VISUAL AGNOSIA

APPERCEPTIVE AGNOSIA
COLOR AGNOSIAS
INTEGRATIVE AGNOSIA
OBJECT AGNOSIA
POSTERIOR CEREBRAL ARTERY SYNDROME (a cause of visual perceptual agnosias)
SIMULTAGNOSIA

VISUAL VERBAL
ALEXIA
VISUAL VERBAL AGNOSIA (inability to read with meaning)
PHYSICAL HEALTH
SENSORY
PROPRIOPERCEPTION (sense of body in space)
BALANCE DISORDER
MOTION SICKNESS
SOPHITE SYNDROME

SOUND
GLUE EAR
HYPERACUSIS
MISOPHONIA/
MUSICAL EAR SYNDROME/MUSICAL HALLUCINATIONS
PHONOPHOBIA
PULSATILE TINNITIS
TINNITIS

SIGHT
CONVERGENCE INSUFFICIENCY
CONVERGENCE EXCESS/ACCOMODATIVE INSUFFICIENCYLIGHT SENSITIVITY

SMELL
ANOSMIAor HYPOSMIA
DYSOSMIA
HYPEROSMIA
PAROSMIA
PHANTOSMIA

TOUCH
CUTANEOUS SENSORY DISORDER
DYSESTHESIA
TACTILE HYPERESTHESIA
TACTILE HYPOESTHESIAor ANAPHIA

PAIN
MYALGIA
NEUROPATHY
OTIS MEDIA

INTEGRATION
SENSORY INTEGRATION DYSFUNCTION/SENSORY PROCESSING DISORDER

REACTIONS
ATTENTION INDUCED EUPHORIA
SOMATOSENSORY AMPLIFICATION
CIRCADIAN SLEEP RHYTHM DISORDERS
HYPOPNEA SYNDROME & ASSOCIATED HYPOXIA
INSOMNIA (including over thinking induced insomnia)
SLEEP APNEA
POOR SLEEP HYGIENE
RESTLESS LEGS SYNDROME
SOMNIPHOBIA/HYPNOPHOBIA
SOMNOLENCE
SOCIAL
Additionally, because vast numbers of people in online autism groups, with or without being on the autism spectrum, may still identify as 'Autistic' I include the following:
IDENTIFICATION PHENOMENA
CONFIRMATION BIAS
FACTITIOUS DISORDER
GROUP THINK
SELF SERVING BIAS
SHADOW SYNDROMES
People in the autism pride movement have expressed their right to define autism as they see it. And, sure, we can culturally choose to take ownership of words, labels, shape them in our own image or cling only to those images or stereotypes that feel our own interests, social benefits or self esteem.
Clinically, however, those with autism not only fit a range of ticks on a DSM5 checklist, but underneath that static 2D linear snapshot is a dynamic multilayered 3D reality of usually unidentified but nameable disabilities occurring in episodic (now and then) or chronic (daily) forms anywhere from subclinical (unproblematic quirks) to acute (disabling).
The person who presents with autism will do so as the result of a wide range of underlying conditions. In other words, under the umbrella term for their presentation as 'autistic', they will actually have a range of 'autism fruit salad'. This 'autism fruit salad' will varies from person to person not just in combinations of strengths and severity of challenges but in the variety of combinations and people may identify with all, with parts or with none of their own 'autism fruit salad'. The components of that fruit salad most challenging a person (or benefiting them) at any one time/situation/stage of their life will keep varying. Some parts may become more obvious in some situations, activities or with specific people, and different components of their fruit salad may become more obvious in others.
Some of these pieces of fruit salad are undoubtedly abilities (if you're lucky enough to have those in your fruit salad). Other parts may be medical issues that need addressing. Other parts may be genetic neurological differences that need respecting or require advocacy skills or adaptations so the person can navigate and function in a world without their same issues. Other parts may be related to brain injury, degenerative conditions or impaired neurological connections or development and these may benefit to some degree from brain gym and adaptations but benefit from little else. What's more, fixating over and over and over again on a disability the person can't change only fails to develop all they still have intact and psychologically and emotionally reinforces their own low self esteem and self defeating sense of incapability. When you apply one size fits all rubber stamped 'autism approaches' you'd better know damned well which parts of a person's autism fruit salad you imagine you are actually addressing. Sure, you may be able to get a person to present less 'autistically' (just as you can socially encourage people to present more 'autistically) but what happens when you stop therapising them? Perhaps its better to work with what's going on in their fruit salad, not fixate on the ticked boxes on the DSM5 checklist on the day they were diagnosed.
Many fear looking at the components of their own autism fruit salad so prefer to pick and choose saying 'that's not autism' over and over and over and keep reinstating a bunch of (sometimes media glorified) cliche autism stereotypes they have self identified with. So because researchers are finding that people with autism have a range of very different combinations of abilities and disabilities under the umbrella diagnosis of 'autism'.
I have personally known of an accomplished professional self employed woman who drank 10 cups of coffee a day to make herself progressively more agitated and anxious before going for her sought after diagnosis of AS. Her reason for seeking diagnosis was that she believed she was the reincarnation of a dead autistic boy and felt spiritually compelled to get a diagnosis so she could work with 'her people'.
I have also known a parent whose child progressed to speaking, self toileting, self dressing and had lost her smearing and self injury. But after being badgered that she therefore didn't accept her daughter as she was, didn't fully embrace her daughter's autism and therefore apparently 'wished her dead', the parent allowed the child to return to living on only chocolate and crunch commercial snack foods and then came to see me with the child not only naked (in winter) and chewing on the glass/phosphorous of a mouthful of redhead matches, but completely regressed to her supposedly 'natural state'.
I have known a number of parents who similarly have compromised their children in order to get them to 'achieve' low enough scores to exit mainstream schools and go into special needs schools (understandable motives such as bullying, underachievement, low self esteem). But what we have is a shifting of the goalposts, even into the territory of Factitious Disorder, not for attention, but for the (often understandable) benefits.
I have known families take all their children under age 5 for diagnosis as there was a $6000 government funding per child if they could fit a diagnosis of autism even where the youngest was only 1 year old. In that year I saw autism diagnosis rise in this country from 1 in 150 to 1 in 50 with teachers saying they could 'see autism in 1 in 20' if not 'autistic traits in 1 in 10' who should also 'have funding'.
None of this is to say this is the norm, it absolutely is not, but we do need to look at this sociology, what its saying about children, about parenting, about schools, about identity, and about self interest. With incidence now around 1 in 50 with schools identifying autism in more like 1 in 20 and 1 in 10 with 'traits', sooner or later the term 'autistic' may ultimately become so expanded as to become diagnostically defunct just as 'infantile psychosis' did when it was replaced with the term 'autism' in the mid to late 1970s. Before we get to to that point, lets empower ourselves with looking through a vast array of things that parents, teachers, clinicians and self identified 'Autistics' have identified as 'The Autism' so all can be better empowered.
The extensive list of 'autism related fruit salad' also demonstrates how limited any one person on the autism spectrum may actually be to presume their condition is a qualification to give reliable advice about other parts of 'autism fruit salad' they have never experienced or have no idea of. It does not mean they won't make useful advocates, just that either they've got to admit their limitations or educate themselves about how vast that 'fruit salad' actually can be, which parts they do fit and understand and which they have no idea of.
Its not just the idea of a'pandemic' that I'm challenging… its the forcing of kids onto a one size fits all diagnosis with an umbrella term with no reasonable analysis beyond a box ticking exercise with a DSM5 checklist in the psychologists office… and as you can see that does jack shit to address around 70% of the potential fruit salad parts one can have, many of which may well be completely out of the psychologist's remit.
The other thing about the 'pandemic' idea is it is so massively based on ignorance, and lipservice appreciation of diversity (god help you if you ACTUALLY spell out the real diversity) that its essentially lies… not a lie that 'autism fruit salads' exist, they do, but a lie that these are necessarily 'autistic' that these are necessarily all addressed by the same rubber stamped money spinning programs, that these are necessarily all ANYTHING.
I would love those who are self diagnosed to to talk openly about identification, including considering Group Think and Factitious Disorder and whether and how these might apply to them. Fact is, if we look closely enough at anyone we can find their autistic parts and if we then trim off anything that doesn't fit, we can make ourselves 'autistic enough' to pass. When is it real? When you clearly have evidence your issues were present since before age 3 you can be fairly sure you're not just jumping on a bandwagon.
As for me, I know my own fruit salad. I have written about my own experiences with gut, immune, metabolic disorders, food allergies, food intolerances and nutrient deficiencies, about the dysgraphia/dyslexia/tumbling and information processing issues of dyspraxia, attention problems, learning disabilities and learning differences, Alexithymia, faceblindness, the meaning deafness-meaning blindness of visual, verbal and auditory agnosias, about body feedback issues, inability to simultaneously process a sense of self and other, about sensory integration and sensory hypersensitivity challenges, of echolalia, echopraxia, logorrhea, Selective Mutism, mood, anxiety, compulsive disorders, eating disorders, had Pica until age 13, lived with tics and OCD, had sleep disorders, self injurious behaviours, stereotypies, Exposure Anxiety, Catatonia at age 12, about having a family history of health disorders and ASD on both sides of my family, identifying with having previously fitted Schizotypal, Schizoid, Avoidant and Cyclothymic personality disorders, about being the child of an alcoholic mother, being developmentally delayed, about PTSD and DID and my diagnosis with a collagen disorder and peripheral neuropathy, having an encyclopedic mind, being a kinesthetic/aural/logical learner, about the ART-ism that runs on my father's side of the family, and about the savant skills that came out of so many of my deficits. I identify with and value some of my fruit salad, have had help in reducing other parts I felt tormented by. Most importantly, by fulling knowing all my own 'fruit salad', I know what else about being me has nothing directly to do with any of it, its just about me being Donna.
My childhood photos speak for themselves and when I wrote my first book, Nobody Nowhere, in 1991, it was pre-internet era and there was no other work in the english language by any person diagnosed with autism with the exception of Temple's first book (Emergence) which was not published in the mainstream at that time. Even when Temple's first book got reworked into her first mainstream book in 1995 (Thinking In Pictures) it was clear I was nothing like the only other person with autism who had then written a book. So there was nobody to copy even if I wanted to. In fact the fact people thought Temple's autism was the only 'true' autism, I was judged as 'atypical' when in fact Temple's diagnosis in the 1980s (when she was finally diagnosed with autism) was Atypical Autism. And so what you had was two atypical people, each atypical in completely different ways. As autism diagnosis widened we saw so many atypical people they dropped that as a subcategory. http://blog.donnawilliams.net/…/03/meeting-temple-grandin/
I don't care if I name all my own fruit salad parts and leave out any mention that the sum total of them presented me as autistic since the age of at least 6 months old. There was a time i felt invalidated by people who liked to point fingers saying 'you're not REALLY autistic' (a bit like the Salem Witch Trials ). It was invalidating not because I 'wanted to be autistic' but because I'd fought my butt off becoming as functional as I finally achieved. But I reached a point where I saw this accusation stuff was 'cultural' and out of these people's self interest and 'investments'. And I knew my health history, writings, art and pics spoke for themselves and that these people actually couldn't erase any of that.
So what is autism? It is a 'fruit salad' made up at least more than one condition which alters development. This can mean anything from developing strengths one may not otherwise have had, to developing compensations as a direct reaction/adaptation to disabilities, to being severely disabled by an overwhelming combination and level of issues. Autistic is an adjective. Anyone can identify as autistic, as aut-istic. If they feel they have the condition of autism, that's fine too.
Within the framework of the Empowerment Model of Disability, you can go ahead and show them this vast list of things that have been identified as parts of different people's 'Autism'. Then ask them what do they feel resonates with their own experience of what is or might be in their own 'autism fruit salad'. Ask then to rate the impact of each on a scale of 0-10. Ask how they identity with each part, or not, how that comes together as a whole, what their strengths and disabilities are, where their sense of personhood fits with all of that. Then ask whether or not they would like acceptance, advocacy, adaptations, services, help with self management, facilitation, treatment or even cure of any part of their own 'autism fruit salad'.
Its a great exercise in self awareness to work through the 'Fruit Salad' list and work out what you do and don't fit if only to work out 'what kind of autistic person' you are. If you need an autism consultant, feel free to book an online Skype or email consultation to talk through your own fruit salad and where you can go to from there.
Perhaps the Autism As A Fruit Salad model will allow us to finally bury terms like high and low functioning, even mild versus severe, and we may just talk instead of 'simpler or more complex', 'beneficial or more challenging' autism 'fruit salads'. Perhaps we could have useful terms like Sensory Autism, Sensory Perceptual Autism, Cognitive Autism, Motor Planning Autism, Communicative Autism, Social Autism, Emotional Autism, Psychiatric Autism, Medical Autism, Genetic Autism, Personality Autism, Residual Autism (the remaining differences after overcoming particular aspects of disability) and, yes, even Identity Autism and Cultural Autism.
Donna Williams, BA Hons, Dip Ed.
Author, artist, singer-songwriter, screenwriter.
Autism consultant and public speaker.
http://www.donnawilliams.net
Special thanks to Paul Isaacs for his expansion of echophenomena, and his suggested additions of P523 deletion, posterior cerebral artery syndrome, Frontal Lobe Syndrome and to Gabrielle Hogg re Smith-Magenis Syndrome.