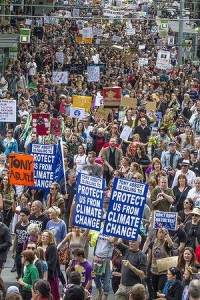 I was among the 50,000 protestors at the Melbourne March in March 2014 this weekend. It was a family friendly demonstration with babies, children, mothers with prams, couples, elderly citizens, people in wheelchairs, people in suits, people in dreadlocks, people in costumes, people with home made signs and expressive TShirts.
They protested on issues of Education, Housing, Jobs, Science, Women's Rights, Technology, Climate, Energy, Environment, Welfare, Disability, Corruption, and respect and equality and human rights for all. They protested against Australia's Guantanamo set up on Rape Island and the atrocities in our name committed against refugees. They protested against proposed new anti-protest laws to stop Australian's having a right to protest whilst overturning hate speech laws protecting minorities from those who would incite violence against them. They protested against the Transpacific Trade Partnership and having a PM in bed with the corporates. And in spite of 50,000 protesters in Melbourne alone, there were no affrays, no arrests, and there was also, conspicuously, ominously, no commercial media. And Tony Abbott's reaction to it all?
"At a press conference in Sydney just down the road, Abbott was celebrating a Liberal state victory in Tasmania last night. When asked for his thoughts on the rallies, he protested ignorance: "My understanding is that the only big rally in Sydney is the St Patrick's Day parade."
Like his friend proclaimed 'pedophile protector' Cardinal Pell, with the help of the Corporate Media he is suspected of being in bed with, Tony Abbott maintains just as much silence about March In March 2014. What a coincidence.
Well, he may do the bidding of the media corporates and have them do his bidding too. But there's always social media and they haven't yet got a stranglehold on the internet…. but wait… What has he announced today, on the final day of the marches?
He reintroduces internet filtering.
Donna Williams, BA Hons, Dip Ed.
Author, artist, singer-songwriter, screenwriter.
Autism consultant and public speaker.
http://www.donnawilliams.net
I acknowledge Aboriginal and Torres Strait Islander people as the Traditional Owners of this country throughout Australia, and their connection to land and community.