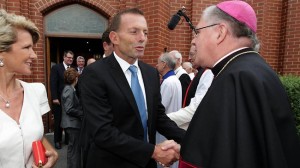 In 1973, Father Gerard Ridsdale and Father George Pell lived together in the parish house of St Alipius in Ballarat East. Father Gerard Ridsdale became chaplain at the St Alipius Boy's School in the early 1970s where his career as Victoria's most rampant Catholic pedophile priest began. By 2013, Ridsdale was charged with over 200 counts of child sexual abuse and pleaded guilty to 167 of these counts. Cardinal George Pell was implicated in the investigation into how Ridsdale was a known abuser since the early 1970s but escaped conviction until 1993. Pell was found to have protected Ridsdale among other pedophile priests and became proclaimed as a 'pedophile protector'.
2013 inquiry evidence

On 27 May 2013, Pell gave evidence before Victoria's Parliamentary Inquiry into the Handling of Child Abuse by Religious and other Organisations.[25] "He admitted his church had covered up abuse for fear of scandal; that his predecessor Archbishop Little had destroyed records, moved pedophile priests from parish to parish and facilitated appalling crimes."[26]
Handling of sex abuse claims as Archbishop of Sydney: the "Ellis Defence"

In 2014, the Royal Commission into child sex abuse was told how lawyers representing Cardinal George Pell and the Catholic Archdiocese of Sydney helped run up bills of $1.5 million against a victim of sexual abuse. The lawyers, acting on the church's instructions, "vigorously" fought John Ellis through the courts despite warnings of Ellis' "fragile psychological state". "The NSW Court of Appeal ruling eventually gave the Catholic Church its notorious "Ellis Defence" — that it could not be sued as a legal entity and could not be held liable for abuse committed by a priest." In a statement to the Commission Cardinal Pell reversed his earlier stance, saying: "My own view is that the Church in Australia should be able to be sued in cases of this kind."[27]
from: http://en.wikipedia.org/wiki/George_Pell

But what shadows does any of this cast on our Prime Minister, Tony Abbott?
TONY JONES: Tony Abbott, on another matter, have you met Archbishop Pell during the election campaign?

TONY ABBOTT: Not that I can recall.

TONY JONES: Not that you can recall, because we believe that you've had at least one meeting with him quite recently. You don't recall that?

TONY ABBOTT: Well, when? Where?

TONY JONES: At the presbytery in Sydney.

TONY ABBOTT: Ah, actually now that you do mention it, I did meet with Cardinal Pell. So what? Why shouldn't I meet with Cardinal Pell?

TONY JONES: Why couldn't you recall meeting him, I think, 10 days ago?

TONY ABBOTT: Look, whenever it was, so what? Why shouldn't I meet Cardinal Pell. Cardinal Pell is a fine man. He made a very good statement the other day about the Labor Party's policy, why shouldn't I meet with him?…

TONY JONES: What issues were discussed?

TONY ABBOTT: Well, Tony, I may well have been going to confession to Cardinal Pell, I may well have been seeking pastoral counseling from Cardinal Pell. What's so sinister about that?

Cardinal Pell is one of the greatest churchmen that Australia has seen. I am a very imperfect Catholic. Why shouldn't I go and seek counsel? Why shouldn't I go and trespass on the time occasionally of someone like Cardinal Pell.

If you spent more time with Cardinal Pell, your life might be more interesting.

– Tony Abbott interviewed on ABC's Lateline

"Abortion is a worse moral scandal than priests sexually abusing young people". – Cardinal George Pell
from: http://tonyandponies.tumblr.com/
But if Tony Abbott is so intent on being covert in his connection with Cardinal Pell, what are we to make of this? Perhaps a 2013 dinner party story may shed more light on this. The IPA is an ultra conservative right wing organization influential in the formation and support of the Liberal Party.
"It (the IPA) is "funded by individual memberships and subscriptions, as well as philanthropic and corporate donors. We know Rupert Murdoch is a large donor, as was his father, but outsiders can only guess whom the others are. We are told that 'big business', and perhaps 'big tobacco' is among them, but the list is kept under wraps.

The list of invitees to the IPA Gala Dinner is not public, but we do know that the guest of honour and keynote speaker was Rupert Murdoch, that Gina Rinehart was a distinguished guest and speaker, and that Andrew Bolt was Master of Ceremonies. Apart from Tony Abbott, other Liberal luminaries were there: Victorian Premier Denis Napthine, Melbourne Lord Mayor Robert Doyle, and Shadow Attorney General George Brandis. None of these names are surprising. What I expect though came as a surprise to many outside the IPA was the presence of the most senior Catholic in Australia, Cardinal George Pell, Archbishop of Sydney. What does his presence mean?

Why would this most senior Catholic clergyman be willing to associate himself publicly with an ultra conservative think tank that works hand in glove with the Liberal Party. Abbott concedes that George Pell is one of his most prominent mentors, although on one infamous occasion on the ABC's Lateline, in the lead up to the 2004 election, Abbott lied to Tony Jones about a meeting he had had with Pell, and was subsequently caught out. Why was he so keen to deny the meeting? Perhaps to neutralize any charge that Pell was influencing him?

Abbott still consults regularly with Pell, whom he considers to be "one of the greatest churchmen Australia has seen." Will Pell exert his influence on contemporary politics via his pupil Tony Abbott, a Jesuit boy, a past seminarian who once studied for the priesthood, but now in the supremely powerful position of aspirant for the highest political office in town – Prime Minister of Australia? We shall probably never know, but we are entitled to be suspicious and deeply apprehensive about this prospect. From: http://www.thepoliticalsword.com/post/2013/04/08/Abbott-and-the-Murdoch-Rinehart-Pell-connection.aspx
This is not the first time Tony Abbott has allowed himself to become overly implicated with priests associated with pedophilia. There was also the case of Father John Nestor.
Sooner or later we may know more fully the extent of Tony Abbott's relationship with both Cardinal Pell and Father John Nestor.
Donna Williams, BA Hons, Dip Ed.
Author, artist, singer-songwriter, screenwriter.
Autism consultant and public speaker.
http://www.donnawilliams.net
I acknowledge Aboriginal and Torres Strait Islander people as the Traditional Owners of this country throughout Australia, and their connection to land and community.