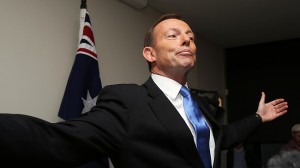 Tony Abbott is spending 4 BILLION of your Australian taxpayer dollars each year:
Operation Sovereign Borders: Costs snapshot
Department of Immigration
2013-14 budget allocation for offshore asylum seeker management (Source)
$2.9 BILLION
Department of Immigration
Additional allocation for offshore asylum seeker management in MYEFO (Source)
$405.9 MILLION
Defence
2013-14 budget allocation for Operation Resolute (Source)
$9.9 MILLION
Defence
Estimate by military analyst James Brown for 2012-13 Operation Resolute spending (Source)
$262 MILLION
Australian Customs and Border Protection Service
2013-14 Budget allocation for Civil Maritime Surveillance and Response Program (Source)
$342.2 MILLION
source: http://www.abc.net.au/news/interactives/operation-sovereign-borders-the-first-6-months/
WHAT ELSE IS IT COSTING US?
To afford this we are seeing massive cuts to education, transport, health, technology, environment, welfare and wholesale sell offs of Australian assets as well as iconic Australian industries cut off from bail outs that could have saved them. Australia now has the highest unemployment in 10 years, wages and penalty rates are being cut, we will now be working until a retirement age of 70 years old and Joe Hockey has also now doubled Australia's debt ceiling to cover this 5 billion. Most importantly, we are losing our humanity and becoming so strikingly un-Australian for Tony Abbott has helped us all to forget the 2nd verse of our own national anthem.
ADVANCE AUSTRALIA FAIR:
Beneath our radiant Southern Cross
We'll toil with hearts and hands;
To make this Commonwealth of ours
Renowned of all the lands;
For those who've come across the seas
We've boundless plains to share;
With courage let us all combine
To Advance Australia Fair.
In joyful strains then let us sing,
Advance Australia Fair.
ARE'NT THE ASYLUM SEEKERS THE PROBLEM?
In 2012-2013 300,000 babies were born in Australia
In that same year 13,000 asylum seekers arrived here by boat
88% of those people were approved as genuine refugees (11,440 approved)
Those who were working adults became new Australian taxpayers contributing to our economy.
12% were not approved (1,560) and were flown back to their own countries (at a cost of around $500 per person, so around $780,000).
BUT ARE'NT THEY QUEUE JUMPERS? ILLEGALS?

Also know that it is not illegal to seek asylum
That is is not illegal to cross sovereign waters to get here
That there are no queues and hence no queue jumpers
such claims are nothing more than political lies for political purposes told to a gullible public.
SO WE HAVE A CHOICE:
We can process asylum seekers in Australia, employing Australians to do so and gain 13,000 new Australian taxpayers each year for our ageing populationhttp://demographics.treasury.gov.au/content/_download/australias_demographic_challenges/html/adc-04.asp which is already actively seeking migrants but we will lose a whole whopping $780,000 in plane fares to send back those not approved as genuine asylum seekers.
OR….
we can strip Australia not of $780,000, but of 4 BILLION DOLLARS per year and suffer the consequences of the massive cuts and sell offs, the loss of international reputation and tourism whilst we continue to age and have nobody to push our wheelchairs in the next 20-30 years.
Donna Williams, BA Hons, Dip Ed.
Author, artist, singer-songwriter, screenwriter.
Autism consultant and public speaker.
http://www.donnawilliams.net
I acknowledge Aboriginal and Torres Strait Islander people as the Traditional Owners of this country throughout Australia, and their connection to land and community.