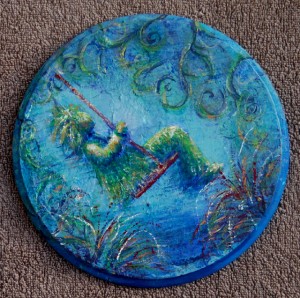 This month's artwork is titled 'Release'.
It is 20cm diameter, acrylic on wood.
It evokes the freedom of swinging, the abandon, and release of that action, that movement. It is reminiscent for me of the swing in the park when I was 3-7 years old. I felt the swing was an old friend and when I was swinging I felt I was flying. I'm sure it contributed to the glorious flying dreams.
I hope you enjoy the painting. You can see it and others in my online gallery.
Warmly,
Donna Williams, BA Hons, Dip Ed.
Author, artist, singer-songwriter, screenwriter.
Autism consultant and public speaker.
http://www.donnawilliams.net
I acknowledge Aboriginal and Torres Strait Islander people as the Traditional Owners of this country throughout Australia, and their connection to land and community.