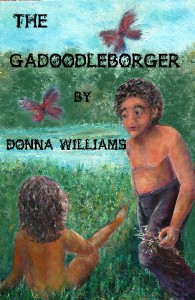 The Gadoodlborger is a term that denoted a person who could translate different 'normalities', a 'bridgekeeper' between different worlds. It was the highest compliment I could pay to those who understood instinctually there was no one 'normality' and the inherent equality in difference – what it was to be naturally and truly diversity friendly.
I first wrote of Gadoodleborgers my book Somebody Somewhere. I then wrote a poem, The Gadoodleborger, which appeared in the poetry book Weirdos Like Me' and also in Not Just Anything. Here, that poem is reproduced and colourfully illustrated with paintings from my Dreamscapes collection.
'The Gadoodleborger' is about someone from the 'usual world' meeting a mysterious other worldly creature who was highly sensing. The Gadoodleborger takes this creature back to his world, only to find that the creature cannot cope. In the process the Gadoodleborger discovers he too is not as 'usual' as he had presumed, that he was empathic enough to understand the creature in her own right and the necessity to value her own world, her own 'normality'. She brings to his awareness that he too was different, quite unlike most in the world he was from, that he was a translator between worlds, a bridgekeeper. Out of empathy and love he determines to return her to her own world. Instead they build a shared world, a place of 'Simply Being' where both can be comfortably what they truly are.
The Gadoodleborger is a full colour illustrated, 11 page rhyming love story. It beautifully and concisely captures the most validating message of 'diffability' in our striving for a progressively more diversity friendly world.
Suitable for children but also for teenagers thinking about friendships and relationships or couples where one partner is on and another is off the autism spectrum.
Order an E-book (PDF) copy directly from Donna for $5 (AUD)
(NOTE: To gift copies just include the name, email address and the greeting you'd like attached to each when I send each out to your designated recipient)