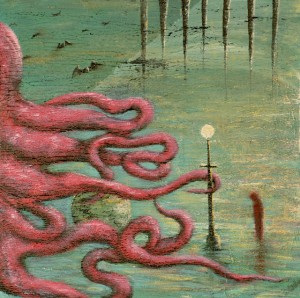 This month's artwork is titled 'Faith'.
It is 50cm x 50cm, acrylic on stretched canvas.
The painting is about hope and faith no matter what besets you from every direction. The lamp post symbolises a beacon of hope, or faith, trusting to life. On the other side of the lamp post to the figure is a world, the figures own world, perhaps a world the figure values and believes in, remains loyal to in the hope of returning when threat is gone. It is a Taoist work, both ominous and spiritual. I hope you enjoy the painting. You can see it and others in my online gallery.
Warmly,
Donna Williams, BA Hons, Dip Ed.
Author, artist, singer-songwriter, screenwriter.
Autism consultant and public speaker.
http://www.donnawilliams.net
I acknowledge Aboriginal and Torres Strait Islander people as the Traditional Owners of this country throughout Australia, and their connection to land and community.
– See more at: http://blog.donnawilliams.net/2014/08/11/artwork-of-the-month-aug-2014-release/#more-6482