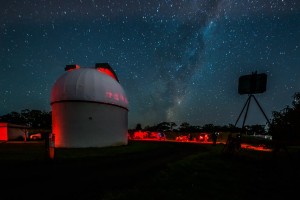 Wondering where to star gaze in Melbourne?
FROM THE MT BURNETT OBSERVATORY SITE:
Mount Burnett Observatory is a not-for-profit astronomical society based at Mount Burnett in the Dandenong Ranges east of Melbourne. The Observatory was originally built in 1972 by Monash University. In 2011 the site was formally taken over by our organisation and it now has a new life as a community observatory. Our aim is to preserve the facility and to use it to promote astronomy and science to the communities in the Dandenongs.
OPEN DAY:
Mount Burnett Observatory will have an Open Day on Saturday 23rd Jan 2016 from noon onwards.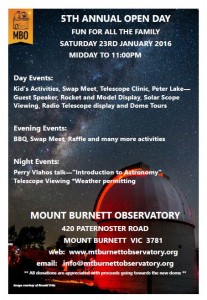 During the day time we will have:
Saturday 23rd January 2016 will be our 5th annual open day and our 4th birthday party, starting at 12 noon and running through 11pm that night. On the programme for the day we have:
12 noon – 6pm: Guided tours of the Dome, short talks, interactive activities, and more!
2pm – 6pm: swap meet of telescope parts and objects
6pm – 8pm: Sausage Sizzle
8pm – 9pm: Perry Vlahos will be talking about "How to get Started in Astronomy"
9pm onwards: Telescope viewing (weather permitting)
For more information about the observatory, bookings for observing sessions, or how to get involved, please email info@mtburnettobservatory.org