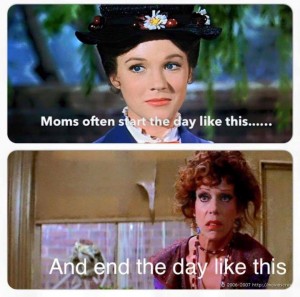 Saw this meme on Facebook and as someone with Dissociative Identity Disorder, it rang true at a whole other level.
From age 3-5, before I was in school (and from 5-6 when taken out of classes) when I was taken out shopping, my mother tried to pass as the 'Mary Poppins' one (moderate, thoughtful, responsible, even 'doting').

But within an hour of being back inside the house she was the second one (volatile, self pitying, paranoid, borderline).

It was more than confusing, it was impossible for me to be one person with such completely different people – very confusing. So the part of me that was 'Shirley' had a mother out at the shops from age 3-6 and couldn't understand why 'she' had no memories of being herself or having that mother once back home. But the 'Cinderella child' part of me that was 'Addie' had the alcoholic within an hour of being back 'home'.
The part that is Shirley now knows the alcoholic/borderline one was, and is, the 'real' one and has no connection to her but values the memories of being out shopping with the 'facade' that she had wished was the real one but never could be. Addie knows the alcoholic one had no capacity whatsoever to be anyone's mother and Addie's 'Cinderella life' is nothing she remembers as 'home' or 'family'.
I recognise multiplicity in my father. He was several different unintegrated people: Jackie Paper, Sparkling Arkie, Johnny Williams, Wild Dog Dingo, Poor Boy. Mothers can also have DID. It is also possible that my mother, among her challenges, was also multiple.
Donna Williams, BA Hons, Dip Ed.
Author, artist,and presenter.
http://www.donnawilliams.net
I acknowledge Aboriginal and Torres Strait Islander people as the Traditional Owners of this country throughout Australia, and their connection to land and community.