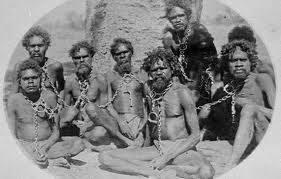 Australians lack a national identity BECAUSE they reject the identity and history they actually have… they want one that reflects well on them, gives them pride…. so they exploit the Anzac line… a remarkably successful distraction.
We could have been a proud nation celebrating our capacity to face, say sorry for and make amends for our atrocities and boldly march in solidarity into the future as a diverse people… but with a leader like Tony Abbott (who in spite of lip service to diversity appears to push the 'white Australia' style of 'Team Australia') actively encouraging a mono cultural Australia that is patriarchal and demonises Indigenous people, we are back in the 1950s-60s again.
My paternal grandfather, Henry Roy Bonnell, was the grandson of a transported convict and became a WW1 vet who left for war in 1914 aged 21, he left his wife and their 3 year old daughter to go serve in Villers-Bretonneux.
After staying on to help rebuild, my grandfather returned to Australia in 1920. On return he found his wife with a second child to someone else. He hit the road and became a swaggie, a homeless person, for 15 years under the assumed name of 'Harry Williams'. Around 1935 he met my grandmother. She was a sunny, musical, kindly – and probably autistic – wine drinking 'dipso' who had descended from 'double cousins', went back 3 generations to poor house clearances, and who had already had a string of 5 children to different fathers and quickly now became pregnant to 'Harry' with number 6 – my father.
My grandfather was an admirable human being – serious, solitary, vigilant, knowledgeable – and he and my grandmother lived with me since birth and I adored him. But from the stories from my father's childhood he was also probably damaged by war and prone to over the top outbursts of bible thumping moralism and volatile behaviours (my father told that he had scrubbed him with a wire brush, washed his mouth out with powdered soap, thrown a wardrobe over their balcony and had taken an axe and chopped down the stairs). So lest we forget???
My 5th generation Anglo Australian mother flogged off my grandfather's war medals to buy herself more beer and blow it on the pokies. My grandfather would have been as appalled by that disrespect for what he'd been through, but he'd have been equally appalled by the the grotesque 'commercialised' exploitation of the 'Anzac' propaganda being flogged to death this year.
Donna Williams, BA Hons, Dip Ed.
Author, artist,and presenter.
http://www.donnawilliams.net
I acknowledge Aboriginal and Torres Strait Islander people as the Traditional Owners of this country throughout Australia, and their connection to land and community.