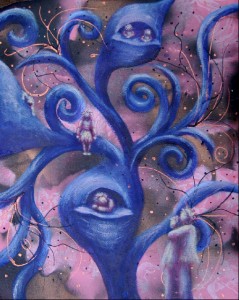 I had an email from an optometrist wanting to find out what tints I've found work best for autistic children. I replied:
HOW DO TINTS WORK?
70% of incoming information is visual and we take that information in as light waves – essentially as color. Tinted lenses are filters. They filter out different light waves. This reduces the level of incoming information which leaves a person more processing time. This can have different effects in different people. For some it may just help them relax more or feel more comfortable looking at faces or making eye contact, help them handle places with bright lights or being outside. For some it will allow them to read comfortably and with meaning or improve depth perception. For others it may help them better process language and ultimately speak more fluently. For some it may help them see things as a whole and recognise objects, faces, places, and begin to read context and social cues or have a better processing of a simultaneous sense of self and other.
SUNGLASSES
A person with autism must first learn to physically tolerate wearing glasses and identify with and accept this intervention as their own. That being the case, then cheap, regular tinted sunglasses commonly work to some degree as an accessible and affordable starting point. This may work reasonably for people experiencing things like migraine, sensory hypersentivities in Chronic Fatigue, Sensory Processing Disorder, Somatosensory Amplification, or just Dyspraxia related information overload.
IRLEN
Irlen tints have worked for me. But Irlen tints are cosmetic tints with around 100 combinations to work through and trying them is charged at psychologist rates. So its a costly process with costs around $700-$1500 a pair including the testing process. And most Irlen practitioners also then recommend retesting yearly (I personally do not find this is necessary for most people). Unsurprisingly, companies like Irlen do not approve of people self testing.
BPI
BPI (Brain Power International) has an affordable autism range of tinted lenses that consists of only 6 different quite specific therapeutic lenses so easy to work through. On the down side opticians generally don't stock this test range so patients never get to try them out and, unlike Irlen, there is no franchise actively profiting from providing such a service. I did buy this test range to allow my autistic clients of all ages to trial the set for themselves. I've found around 70% of those I identify as behaving in accordance with things like Convergence Insufficiency (obvious poor tracking, poor convergence or lazy eye when overloaded) or Simultagnosia (context blind, object blind, face blind, and treat objects, people and environments as though they are processing these bit by bit) have found that the BPI DD400 lenses usually work a bit for some of them, that the BPI Sahara often works noticeably for them, that the BPI Omega works either better for them than the Sahara or equal to the Sahara, and that the BPI IR Blue works either better than all of these for them or equal to the Omega. There have also been two cases where the only tint that worked was BPI Mu, and two cases where the only one that worked was BPI DD 450 yellow night driving lenses. In these cases these worked obviously and dramatically for these people, suddenly able to see a face, a room etc as a whole. BPI also have affordable clip on lenses without the costly outlay for glasses the person with autism may never voluntarily use.
COLORIMETER
I also find my tints prescribed by the Colorimiter to be as good as my BPI lenses (I'm one of the 70% for whom DD400, DD450, Sahara, Omega and IR Blue all worked with IR Blue the best). The Colorimeter service is more limited than self testing with the BPI tints because it generally involves looking at print so if a person with autism doesn't read, they are generally not testable.
WHAT I LOOK FOR IN THOSE SELF TESTING:
I have worked with around 1000 people with autism directly and had around 300 do self testing with my BPI autism range of tints. I have them look at faces, walk up and down stairs, walk through a dense garden, watch traffic, read out loud, all intermittently with each pair and without. I watch their shoulders, their jaw, their forehead for relative changes in stress, listen for their fluency as a marker for improved information processing, watch their tracking and convergence to see if it has markedly improved, watched their confidence and competence in movement, how much more they are in their body and face with different tints, watch how they respond to faces, recognition and whether they appear to now be taking in a face as a whole or still bit by bit.
HOW PEOPLE RESPOND ONCE THEY HAVE GLASSES WITH A TINT THAT WORKS:
Some have been overwhelmed by the shift in perceiving a conjoined world. Some have been instantly intrigued by it and begun within the first few months to recognise and respond to people, environments, objects they hadn't responded to before.
BUT MY CHILD WON'T WEAR GLASSES:
I find that more classically autistic children under 7 commonly struggle to easily be part of the testing and after often not ready to handle wearing glasses. Where I recognise possible significant visual perceptual processing issues in a young child of 3-7 I generally recommend a behavioural program that will familiarise them with tints. This may be large boxes with cut out windows with colored celophane panes they can view through, colored plastic gels or cups they can look through, children's toy sunglasses and to remain low key and play oriented in this program so the child doesn't feel 'worked on' and has a better chance to identify with interest in tints and glasses.
Donna Williams, BA Hons, Dip Ed.
Author, artist,and presenter.
http://www.donnawilliams.net
I acknowledge Aboriginal and Torres Strait Islander people as the Traditional Owners of this country throughout Australia, and their connection to land and community.