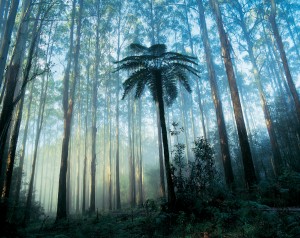 The Dandenong Ranges is home to so much iconic Indigenous plants and animals and so it attracted masses of tourists every year to its national parks, to Puffing Billy, and other iconic tourist magnets.  But what if you are a tourist or visitor from overseas, wanting to experience Indigenous Australian culture up here in the Dandenongs?  We have Burrinja Cultural Centre which has the Jarmbi Gallery housing Indigenous art.  We have William Ricketts Sanctuary where Ricketts pays homage to the sacredness of Indigenous culture and its connection with nature.  But what do I say when asked 'what is traditional Australian food?'
I was asked this and I answered that as a multicultural country we have many different food influences.  I couldn't say that British throwbacks such as pies, fish and chips or American throwbacks such as burgers were traditionally Australian, no more than any other throwback to a culture outside of Australia.  So I talked about Indigenous Bush Tucker, and what it was.  'Can we go to such a place?' I was asked.  And of course then I knew that with all the food choices in the Dandenong Ranges there was not a single one dedicated to offering a traditional bush tucker menu.  Burrinja has great food, but in spite of its celebration of Indigenous art in its Jarmbi Gallery it has no such menu.   The nearest place to experience traditional bush tucker at a restaurant or cafe would be in Fitzroy,  Geelong, Phillip Island , Bright or Halls Gap.  Come on Dandenong Ranges.  We can do better.
Polly Samuel (aka 'Donna Williams')
Author, artist, consultant and presenter.
http://www.donnawilliams.net

I acknowledge Aboriginal and Torres Strait Islander people as the Traditional Owners of this country throughout Australia, and their connection to land and community.