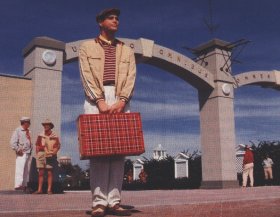 HOW MANY TRUMANS DO WE STILL NEED?
Bullshit scares some of us… it scares me… I'm from a background of mentally ill parents… conduct disorder, attachment disorder, munchausen by proxy, addictions, bipolar, sociopathy, psychopathy, I have lived within the same walls of all of these things…. I was diagnosed as psychotic when I was TWO YEARS OLD (autism was deemed 'infantile psychosis' until the 1970s) and introduced as psychotic and disturbed until I was around 15…
My mother had mind fuck campaigns designed to confuse me until I didn't know what was real… pretending I was actually a boy, telling me I was full of spiders but couldn't see them because I was too afraid to see what was really inside of me…. That's just shit that substance abusing, damaged people do… so as an adult I strive to I live in a world where reality, tangible, provable reliable integral reality really matters.
I fear a world of mind fuck, a shallow surfacy smoke and mirrors world and I feel threatened when 'one of my gang' (autistic people) is actively going for the icing sugar on a bullshit cake.  I think I feel more challenged by that indoctrination than if the person is more completely mere puppet but progressively it is the parents who buy this party for their 'it girl', their 'it boy'… signing this, signing that…It is just so 'Truman Show'.  Perhaps I'm just jealous, bitter, that 'I could have been a contender'…

I was a contender and it wasn't my thing.  In 1994 I had two international bestselling autiebiographies… Nobody Nowhere (1991) and Somebody Somewhere (1994) and a film deal with Touchstone and Julia Roberts' company, Shoelace. Academy Award winner, Debra Winger, had done the audio version of my books and came to my New York hotel room. Oliver Sacks and I had a series of phone conversations to discuss my visual perceptual challenges and its impact on my thinking and communication development. In media terms, I was the 'it girl'.
And so, in 1994, I was approached by Time Magazine to have their photographer follow me around for a week. Much to the shock and disappointment of my US publisher (Times), I refused the offer, just as I'd refused their expectations and arrangements to do American Talk Shows when I was hot off the press in 1991. It all felt like a kind of 'prostitution'. It wasn't what I was seeking from life – self acceptance, belonging, connection, stability… In short, I wasn't culturally 'American' so this 'it girl' thing didn't 'make sense' to me.
Instead, I did some radio, many print interviews, only two American TV appearances… a few minutes with Peter Jennings as Person Of The Week on the News, and a Current Affairs interview with Edie Magnus from The Connie Chung Show. My limiting of publicity was not for lack of offers, it was because any media exploitation that treated me like its 'narcissistic object', its 'cash cow', 'it's product' didn't feel healthy, sane, grounding, lasting, or real… and my panic button said – breakdown city this way.
Media is a machine, a factory, it churns out entertainment and need to create a product and make it infinitely entertaining… humans, real, integral humans, are not honed, polished, prewritten broad appeal comedy scripts… I am not a puppet, I would have no hand up my butt pretending such manufactured lines are my own.  Real humans are odd, and a mixed bag and not infinitely cute, funny, nor genius.
How many more 'Truman Shows' do we really need today?  Have we not overdosed yet?
<iframe width="420″ height="315″ src="https://www.youtube.com/embed/NkZM2oWcleM" frameborder="0″ allowfullscreen></iframe>
How many 'Trumans' do we still; need to manufacture, script and prostitute via media?
How many 'Trumans' do we need to construct in the public eye so that the construction perfectly fits the 'Heroes Journey' so completely that it looks 'just like a Hollywood film deal in the making'?

'Inspiration Porn' may make the latest 'it girl' or 'it guy' a potential a cash cow but the public don't buy the bullshit that this is 'all for us'… Its a ratings game and its all for those involved with 'the package'.
I do love the achievements of many of my comrades… Barb Rentenbach, Tim Chan, Peyton Goddard, Sydney Edmond, Richard Attfield, Paul Isaacs and the like… none of them are publicity whores, none of them puppets, none of them honed and packaged scripted media products… none of them ever became a 'bullshit sandwich' handed on a plate to a shallow public happy to unquestioningly dine on inspiration porn.
Polly Samuel (aka 'Donna Williams')
Author, artist, consultant and presenter.
http://www.donnawilliams.net

I acknowledge Aboriginal and Torres Strait Islander people as the Traditional Owners of this country throughout Australia, and their connection to land and community.