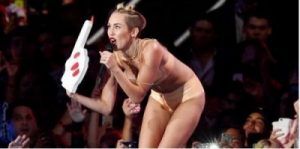 When I was in high school there were some girls who sought to have their dress an inch above their knickers. I remember one in my class with whom boys would engage sexually with her at the back of the class. It disrespected the learning environment because the behaviour of all involved was making it a brothel and a joke so nobody could learn in there.
I grew up in such an atmosphere… our house was like a brothel every Friday and Saturday night. School was respite from that. I feel sympathy for any girls who were taught sexualisation was such an all consuming essential for identity and worth.
Life is a balanced diet.  Being a teen is a time of emerging sexuality and development of identity.  But if a child or teen defines themselves daily by their capacity to captivate and titillate through intentionally exposing themselves they have missed the part about being whole people.  Their environment has messed up in helping them develop healthy self esteem as a whole person.
This can happen when they have been emotionally neglected, emotionally, physically or sexually abused as children, continually witnessed a sibling or mother getting attention/reward for such complete objectification, or had such modelling from a mother who was from similar. These are not children, teens or women anyone should  hate. It is just something sad because girls and the women they become are complete human beings… not walking sex dolls. If they have put all their energy into being walking sex dolls, its like they have lost their soul.
We should not hate anyone who has lost their soul by making themselves an object or a role instead. We should care and remind them that we see them as whole people and respect them as whole people.
Polly Samuel (aka 'Donna Williams')
Author, artist, consultant and presenter.
http://www.donnawilliams.net

I acknowledge Aboriginal and Torres Strait Islander people as the Traditional Owners of this country throughout Australia, and their connection to land and community.