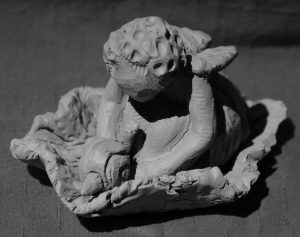 Less than a month ago I learned by breast cancer returned, that my liver had innumerable tumors and one in my spine. Most people imagine bucket lists, but I did a spring clean, celebrated the little things & ordered online what I needed for my new lifestyle of weekly chemo for the rest of my life (chemo for secondary breast cancer is to extend months, hopefully a year or even sometimes years). I focused on laughing, living, loving and normalising this new direction for me, my husband, our cats, our friends.
I also wanted to finish recording unrecorded songs and classical music I'd written, to self publish unpublished poetry, to work on getting all my art on Redbubble so people can continue to enjoy it, and skyping with friends when I was up to doing so. This meant I was by the computer uploading over 300 paintings I'd done since 2005 and in between getting the world to sing and dance with me and normalise this new direction, yes, and normalise death, dying, and secondary cancer that is extendable but not curable. It has been fun sharing clips of chemo humor, dance clips, kareoke, sharing these with the world and knowing they are singing along, laughing along, dancing along with me, wishing on a star and learning too, perhaps, how to make the world not just more diversity friendly, but more at ease with illness, with cancer, with dying and death. This is a gift to them and so it is also a gift to myself in the capacity to share it. So I am not 'wasting my time on FB', I'm in therapy to normalise what has been a shock to me, my husband and friends, and to those who have known me in the autism world and the online world. So much healthier to work positively through that process with 'everyone' than feel alienated, alone, in my new Life On Mars.
Donna Williams, BA Hons, Dip Ed.
Author, artist, singer-songwriter, screenwriter.
Autism consultant and public speaker.
http://www.donnawilliams.net
I acknowledge Aboriginal and Torres Strait Islander people as the Traditional Owners of this country throughout Australia, and their connection to land and community.