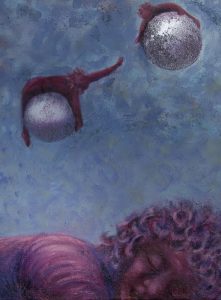 My World = One's Own World. This is our first world. Before all of its later cladding and contortions, it is at first a place of sensing, beingness, the preconscious mind and unknown knowing. It is the place where we understand self in others and others in self through the skill of mergence.
The External World = The physical world known through our sensory experiences as processed through our bodies/brains and experienced as sensations, thoughts, emotions, connections. This is a directly hands on world where sensing and beingness may be relatively strongly intact.
The Interpretive World = the world of applied (visual/verbal/kinesthetic) meaning to incoming experiences that progressively builds mental structures and frameworks that ultimately filter our direct sensed experiences of the physical world and develops conscious mind as the primary guide.
Ego World = Ego contortion that further clads, alters and filters the logical meaning we get from experiences of the physical world and further buries our original capacity for sensing and beingness. This can be indoctrination, culture, economics, identifications, rewards, honed addictions and competition for social, economic, cultural 'currency'.
Polly Samuel (aka 'Donna Williams')
Author, artist, consultant and presenter.
http://www.donnawilliams.net
I acknowledge Aboriginal and Torres Strait Islander people as the Traditional Owners of this country throughout Australia, and their connection to land and community.